FieldSmart Fiber Crossover High Density (FxHD) Distribution System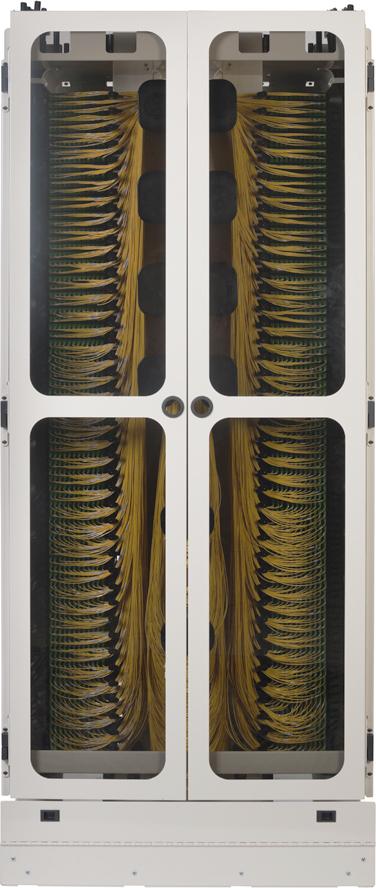 With the FieldSmart FxHD front access design, Clearview® Cassettes are shifted to the outside of the frame and away from a fixed panel configuration. Instead of traditional panel configurations, the frame is configured with a series of Clearview Blue Cassettes teamed with building brackets built into user-defined building blocks. The FxHD Frame provides the ultimate in modularity and flexibility to scale from 12 to 2,016 ports in any fiber count optimizing your ability to maximize fiber investment and assets. Clearview Blue's in-cassette buffer tube storage allows the FxHD to reclaim the space used for traditional panels and mass buffer storage and to redeploy it by using building blocks of Clearview Blue Cassettes. For scenarios where maximizing real estate is a premium, service providers may choose to deploy the high density fiber distribution frame with front only access, allowing frames to be mounted back-to-back or against structures such as walls, existing frame equipment or building supports.
Product Details
The FieldSmart High Density Fiber Crossover Distribution System (FxHD) is the highest density fiber management frame solution available in the industry today, providing 2,016 SC terminations in a 7' (2133.60 mm) frame or when mounted back- to-back, FxHD supports a maximum density of 4,032 terminations in a space savings footprint of 9 square feet (36" x 36") (914.40 mm x 914.40 mm).
FieldSmart FxHD fiber distribution frame is an integrated fiber management solution utilizing the Clearview Blue Cassette. Designed around the same footprint as the FxDS fiber frame at 18" x 36" (457.20 mm x 914.40 mm) and utilizing the same full length doors for maximum physical fiber protection, the FxHD easily integrates alongside existing FieldSmart FxDS or other industry standard frame systems. Those deploying the FieldSmart FxHD can start with one Clearview Blue Cassette and add additional cassettes as additional capacity is needed, up to a total of 168 cassettes and 2016 ports of connectivity. This port count represents an additional 288 ports in a standard 7' (2133.60 mm) frame – or a 17% increase in density over the FxDS frame solution. With instant access to all cassettes, adapters and jumpers, the frame is designed as a front access frame. This means that all of your installation, MAC (moves, adds and changes) work and routing of jumpers is done from one side of the frame providing you the option to reclaim the aisle space required for frame solutions that require rear access - and to use that space for other equipment or more frames. The FxHD can be placed against a wall, a cage in data center collocation environments or installed back to back. The FxHD frame solution provides a 40% reduction in floor space requirement while still meeting 30" (762.00 mm) aisle spacing requirements.
Designed in conjunction with Clearview Blue, the FxHD extends the Clearfield® commitment to modular and scalable solutions by introducing tech-friendly, tool-less deployment to standard building blocks. Individual components are configured to application requirements while providing bend-radius protection, physical fiber protection and route-path diversity for the consolidation and distribution of fiber.
User-defined Clearview building blocks configured to exact port count specifications can be deployed in seconds with Smart-Connect tool-less fasteners. Clearview Blue Cassettes simply slide into building block assemblies with a "hard-stop" feature ensuring perfect alignment every time. Additional buffer tube/ribbon slack is stored within each cassette eliminating buffer tube congestion, pile-up or identification miscues. The dedicated "w-shaped" intrabay route scheme ensures long term reliability of circuits by maximizing proper slack storage of any jumper length, greatly reducing the chance of jumper tie-in or weaving. Full length doors provide complete physical fiber protection when closed and instant visual and physical access to the entire frame when opened.
For scenarios where maximizing real estate is a premium, service providers may choose to deploy an FxHD front only access, allowing frames to be mounted back-to-back or against structures such as walls, existing frame equipment or building supports.
Application Scenarios
Patch Only
Clearview Blue and the ganging bracket enable any size block of cassettes to be configured for patch only any size fiber count or cable sheath. Pre-terminated OSP or IFC cable in loose-tube, ribbon, or tight-buffered constructions are pre-terminated into the appropriate amount of Clearview Blue cassettes, and those cassettes are loaded into the appropriate number of ganged building brackets and shipped out to you. Upon arrival, the patch only Building Block, of any port count, is pulled out of the container, the blunt tail is routed to your fiber entrance cabinet, splice case, or whatever splice point you are using, and the Building Block of cassettes is snapped into the frame, where you want it, without the use of any tools. Spring tensioned fasteners provide for instant mounting of any size Building Block of cassettes. This FxHD can be built is less time than a traditional frame with only a single pair of hands reducing installation labor and your total cost of ownership. To order, you need simple two part numbers: the Frame Kit and the Building Bracket.
In-cassette splicing simplifies your installation, training and support. Incorporated into the Clearview Blue Cassette, this modular, scalable building block provides a unique, single architecture platform throughout the network, meaning savings are multiplied from the head end/central office all the way to the distribution point of your network.
By bringing the splice tray inside the cassette itself, turn up and installation is even quicker and there is no need for a fiber entrance cabinet, splicing hardware or trays. With the FxHD frame patch & splice configuration, everything but Clearview Blue Cassettes are preloaded at the factory.
You next step is to order your patch and splice Clearview Blue Cassette configuration. You will need to choose from ribbon or loose-tube, as well as your connector style, or possibly optical components.
Features & Benefits
Enhancements
Increased port density 2016 versus 1728
In-cassette buffer tube storage
Modular Building Block/assembly with smart-fasteners
Tool-less cassette deployment (Slide into rails)
W-shape intrabay route scheme
Interbay route path with fold down door
Front only access (can still be used with rear access)
Integrity
One frame size accommodates up to 2,016 ports or 4,032 ports when back-to-back
Supports all industry standard singlemode and multimode connectors
100% performance tested for insertion loss, return loss and final mechanical inspection
Supports distribution, tight-buffer and ribbon fiber types for inside and outside plant constructions 
Protection
Full length doors provide instant visual and physical access to the entire frame when opened and complete physical fiber protection when closed
Complete bend-radius protection throughout all routing schemes
Diverse route-paths minimize cable pile-up and ensure long term reliability of circuits
Integrated "w-shaped" intrabay route scheme does not compete with adjacent frames and maximizes proper slack storage of any jumper length, greatly reducing the chance of jumper tie-in or weaving (13'/4 meters suggested) 
Radius protected storage for up to 10 feet (3.04 M) of buffer tube slack provided in Clearview Blue Cassette
Access
FxHD is front access only to ensure maximum accessibility to achieve 2016 SC terminations or 4032 in a back-to-back frame system
Top entry/exit through horizontal fiber trough and bottom entry through raised floors supported front and rear of frame
Fold-down trough door allows complete access to interbay lay-in routing for 6,000 jumpers (3,000 left and 3,000 right) through the frame and adjacent frames
A four meter jumper can get you from any port to any port
Supports SmartRoute rear interbay troughing route-paths
Uses Clearview® Blue Cassette front access with removable 12-pack adapter plate allowing quick and easy access to back of adapters for troubleshooting, maintenance and cleaning without disturbing live circuits in other cassettes
Investment
Fully loaded or "grow-as-you-go" integration allows the user choices to provide for cost containment as subscriber take-rates dictate
Compatible alongside FxDS frame line up as well as traditional 19" (482.60 mm) or 23" (584.20 mm) frame solutions
Pre-configured/pre-loaded factory terminated assemblies
Custom configured with standard building blocks supporting all application environments
Patch and splice (Clearfield's in-cassette splicing solution), patch only and plug-and-play configurations supported
Technical Specifications
Specification
Description
Dimensions
7.2' H x 36" W x 18" D (2133.60 mm x 914.40 mm x 457.20 mm)
Ratings
Designed to comply to Telcordia GR-449
Port Density
2,016 SC or 4,032 LC (front access only, back-to-back mounting)
Cassette Types Supported
Clearview® Blue
Connector Types
SC/UPC, SC/APC, LC/UPC, LC/APC, MPO (additional options available upon request)
Cable Types
Indoor Riser, Indoor Plenum, Indoor/Outdoor, Outdoor (Riser/Non-Rated), Outdoor Armored (Riser/Non- Rated), FieldShield®
Splice Capacity
12 splices in each Clearview Cassette
Storage Capacity
One meter of 900 μm fiber and up to three meters of jacketed fiber
Cable Entry Compatibility
Top and bottom (floor) entry
Cable Entry Clamps Location

16 (eight left, eight right)

Note: Center clamping compatible for left and right same sheath distribution of buffer tubes/sub units

Recommended Jumper Length
Four meters, plus two meters (13' + 6.6')for each additional frame
Material
Stainless steel with almond powder coating