CraftSmart Fiber Protection Vault (FPV)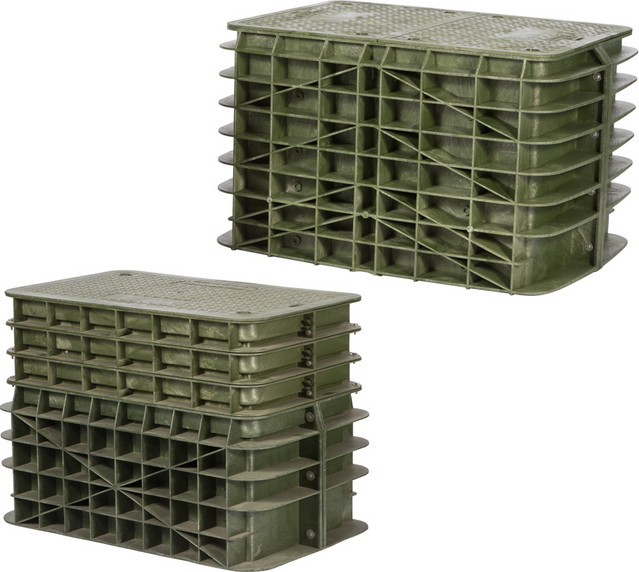 The Clearfield® CraftSmart product line provides physical fiber protection for products. It completes and delivers a turn-key passive solution from the central office/headend to the customer premise. CraftSmart Fiber Protection Vaults (FPV) provide the most cost-effective thermoplastic enclosures in the industry - meeting and exceeding the industry standards for strength, reliability and environmental concerns.
Formed from a High Density Polyethylene (HDPE) Thermoplastic, these vaults provide a solid base and light-weight material alternative to traditional polymer concrete enclosures. Multiple industry standard sizes can be ordered with solid covers or pre-cut covers to accommodate various FieldSmart Cabinet solutions.
Technical Specifications
| Straight Wall | A - Inside Dim. Width | B - Inside Dim. Length | C - Outside Dim. Width | D - Outside Dim. Length | E - Height  |
| --- | --- | --- | --- | --- | --- |
| 17 x 30" (431.80 mm x 762.00 mm)  | 16 1/16" (407.99 mm) | 29 1/16" (738.19 mm) | 22 1/16" (560.39 mm) | 35 1/16" (890.59 mm) | 24 1/2" (622.30 mm) |
| 24 x 36" (609.60 mm x 914.40 mm) | 22 3/4" (577.85 mm) | 34 1/8" (866.78 mm) | 30 3/8" (771.53 mm) | 41" (1041.40 mm) | 24" (609.60 mm) |
| 30 x 48" (762.00 mm x 1219.20 mm) | 28 3/4" (730.25 mm) | 46 1/8" (1171.58 mm) | 37 1/8" (942.98 mm) | 53 1/2" (1358.90 mm) | 24 5/8" (625.48 mm) |
| Straight Wall | Approx. Weight with HDPE Cover   | Recommended for Clearfield® Product |
| --- | --- | --- |
| 17 x 30" (431.80 mm x 762.00 mm) | 40 lbs (18.14 kg) | YOURx-Terminal |
| 24 x 36" (609.60 mm x 914.40 mm) | 83 lbs (37.65 kg) | YOURx-Terminal, FieldSmart 288 and 432 PON or 432 Cross-Connect Cabinet, Hub Collapse Cabinet |
| 30 x 48" (762.00 mm x 1219.20 mm) | 195 lbs (88.45 kg) | YOURx-Terminal, FieldSmart 576 or 1,152 PON or 864 or 1,727 Cross-Connect Cabinet |
Flared Wall
A - Inside Dim. Width
B - Inside Dim. Width
C - Outside Dim. Width
D - Outside Dim. Width
E - Height
36 x 36" (914.40 mm x 914.40 mm)
36 1/8" (917.58 mm)
36 1/8" (917.58 mm)
40 7/8" - 46 3/4" (1038.23 mm - 1187.45 mm)
40 7/8" - 46 3/4" (1038.23 mm - 1187.45 mm)
24" (61.24 kg)
36 x 48" (914.40 mm x 1219.20 mm)
36 1/8" (917.58 mm)
40 1/8" (1019.18 mm)
40 7/8" - 46 3/4" (1038.23 mm - 1187.45 mm)
52 7/8" - 58 3/4" (1343.03 mm - 1492.25 mm)
24" (61.24 kg)
36 x 60" (914.40 mm x 1524.00 mm)
36 1/8" (917.58 mm)
60 1/8" (1527.18 mm)
40 7/8" - 46 3/4" (1038.23 mm - 1187.45 mm)
64 7/8" - 70 3/4" (1647.83 mm - 1797.05 mm)

24" (609.60 mm)

36" (914.40 mm)
Flared Wall
Approx. Weight with HDPE Cover
Recommended Clearfield Product
36 x 36"  (914.40 mm x 914.40 mm)
135 lbs (61.24 kg)
YOURx-Terminal, FieldSmart 576 or 1,152 PON or 864 or 1,727 Cross-Connect Cabinet
36 x 48" (914.40 mm x 1219.20 mm)
155 lbs (70.31 kg)
YOURx-Terminal, FieldSmart 576 or 1,152 PON or 864 or 1,727 Cross-Connect Cabinet
36 x 60"

170 lbs (77.11 kg)

235 lbs (106.59 kg)(106.59 kg)

YOURx-Terminal, FieldSmart 576 or 1,152 PON or 864 or 1,727 Cross-Connect Cabinet
Cover Options
| Specification | Standard Thermoplastic Cover | Split Thermoplastic Cover | Polymer Concrete Ring and Cover |
| --- | --- | --- | --- |
| Application | Greenbelt | Greenbelt | Sidewalk |
| Static Load | 5,000 lbs. | 5,000 lbs. | 20,000 lbs. |
Features & Benefits
Integrity
RUS accepted
Compliant to Telcordia GR-902
Compliant to ANSI/SCTE 77 2010 as specified by N.E.C. ANSI C57 Enclosure Integrity
Compliant to Western Underground Guide 3.6
Stainless steel hardware
Protection
Hex head security bolts
All boxes incorporate a unique "T" style overlapping cover design to reduce soil mitigation into box
Access
Multiple cover options, including single piece solid thermoplastic, split thermoplastic, solid or split polymer concrete, provide ease of access and the ability to be used in multiple applications for the products
Mounting bolts and templates are available for HDPE split lids for FieldSmart cabinet mounting
Custom split lids with cut outs for FieldSmart Cabinets
Investment
High strength rigid construction ensures long term reliability in the harshest environments
Lighter and easier to handle than concrete, which increases the overall safety factor