Clearview Black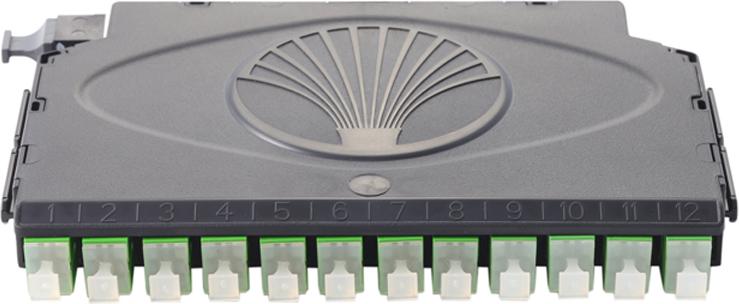 Clearview Black provides 12 to 24 ports of connectivity for patch and splice (Clearfield's in-cassette splicing solution), patch only and plug-and-play (MPO/MTP) configurations in any network environment. It scales and multiplies to meet your specific port density and application needs. Additionally, optical components integrate into the cassette, supporting any input/output combination of splitting or mux and demux strategy desired. The Clearview Black Cassette is available in ribbon only. 
Product Details
Clearview Black incorporates the same flexibility and scalability of the Clearview Blue, in a 50% smaller footprint. Fiber cassettes from Clearfield decrease the overall footprint of the fiber management element, reducing real estate costs and improving density without compromising critical design elements of access, bend-radius protection, physical fiber protection and route-path diversity.
Clearview Black is a three component tool-less system made up of a top cover, base/splice tray and splice tray cover. Parts snap together to support the desired application requirements. All types of fiber cable construction can be integrated within the cassette to support all patch and splice, patch only, plug-and-play, and passive optical component hardware scenarios.
Each patch and splice cassette comes prepared for mass fusion splicing, with one meter of ribbonized 250 μm fiber preloaded and prepped to splice. Each ribbonizing tool aligns and secures the loose tube fibers into correct color code order, allowing ribbonizing to be completed quickly and easily.
For patch only configurations, the pre-terminated length of OSP or IFC cable is pre-loaded within the Clearview Black Cassette. The cassettes are then preloaded into the FieldSmart® product when shipped. 
Configurations
Patch Only
Regardless of the industry standard adapters or cable construction, the Clearview Black handles all patch only applications using the lower tray, top cover and built in radius limiter.
Patch and Splice (Clearfield's In-Cassette Splicing Solution)
The splice tray that is molded into the lower tray is all that is needed to deliver integrated patch and splice applications. Pre-loaded with up to one meter of ribbon, 250 μm assemblies that are preterminated with slack stored inside the cassette for splicing.
Optical Components
Clearview integrates optical components into the identical cassette, allowing service providers to mix and match fiber modules with optical components in the same chassis.
MPO Plug-and-Play
MPO to industry standard connectors allows for plug-and-play by mating MPO to MPO with preterminated multi-fiber OSP or IFC.
Clearview Ribbonizing Tool
Ribbonizing allows quicker troubleshooting and restoration of affected fibers, as 12-fibers are ribbonized only where the splicing needs to occur, providing single-circuit access as necessary. Each ribbonizing tool aligns and secures the loose-tube fibers in correct color code order, allowing ribbonizing to be completed quickly and easily. Clearfield's disposable ribbonizing tool efficiently organizes and prepares loose tube fibers to facilitate mass fusion splicing. Note: The Ribbonizer Tool (kit of 12) is sold separately. 
Features & Benefits
Integrity
Terminations designed, tested and certified to Telcordia GR-326
MPO terminations designed, tested and certified to Telcordia GR-1435
Cassette is designed, tested & certified to GR-63 Flame Spread & Chemical 
Clearfield® FiberDeep® Guarantee: 0.2 dB insertion loss or less, exceeding industry standards
Supports industry standard SC and LC singlemode and multimode connectors
Supports all fiber construction types - patch and splice must be ribbonized
Modular and scalable
Protection
Designed to handle the toughest operating environments, provides flexibility and reliable performance
Slack stored, bend-radius protected and secured against accidental physical damage from handling
Access
Tool-less, snap together design makes turn-up time even faster
Two buffer tube/cable entry/exit paths allow the technician a high degree of flexibility in deployment
Front-access to pre-terminated assemblies with Clearview removable lid
Ribbonizing allows quicker troubleshooting and restoration of affected fibers, as 12 fibers are ribbonized only where the splicing needs to occur, providing single-circuit access if necessary
Investment
"Grow-as-you-go"
Scalable (multiplier of 12) building block to align capital expenditures to customer take rates
Modular design allows ports to be configured to user-defined application requirements
Patch and splice - integrated splice tray removes the need for a separate splice enclosure/cases
50% smaller footprint than Clearview Blue allows for more density within all application environments
Patch and splice integrated splice tray removes need for a separate chassis space or splice enclosure reducing the required real estate
Ribbonizing loose tube cable allows for mass-fusion of up to 12 fibers at a time, reducing installation time and costs
Brackets for 19" and 23" (482.60 mm and 584.20 mm)frames
Technical Specifications
| Specification | Description |
| --- | --- |
| Ratings | Terminations are designed and tested to Telcordia GR-326; Clearfield® FiberDeep® Guarantee: 0.2 dB insertion loss or less, exceeding industry standards |
| Dimensions | 0.81" H x 6.13" W x 4.14" D (20.57 mm x 155.70 mm x 105.15 mm)  |
| Mounting Options | Used with FieldSmart® BLG Pivot Bracket |
| Material | Polycarbonate |
| Connector Types | Supports industry standard SC and LC singlemode connectors |
| Meters/Feet of Slack Storage | 1 meter of 250 μm used for internal ribbon splicing only |