FieldSmart Small Count Delivery (SCD) Wall Box for xPAK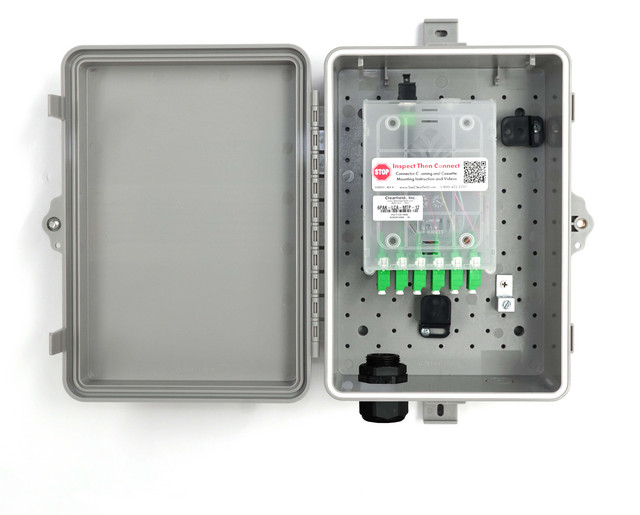 Ideal for any small-count "landed" fiber scenarios where 2, 4 or 6 fibers are required in a discrete footprint without sacrificing fiber management. Optimized for use with the Clearview xPAK.
Engineered to land small port count fiber terminations and optical components as conveniently as possible, the Clearview xPAK and FieldSmart FDP-xWB1 enclosure are packaged to make landing small count fiber more cost-effective and efficient than previously thought possible.
The FieldSmart FDP-xWB1 is optimized for delivery of a single Clearview xPAK with up to six fibers. The lockable, NEMA 4 rated enclosure is a compact 9 × 12 inch design, making it ideal for a variety of applications, including harsh environment locations surrounding fiber demarcation; entrance facilities; FTTp drop boxes; or cell backhaul.
Technical Specifications
| Specification | Description |
| --- | --- |
| Dimensions | External: 12.17" H x 8.62" W x 3.91" D; Internal: 9" H x 6" W x 2.25" D |
| Port Density | Up to six ports |
| Cassette Types Supported | Clearview ® xPAK |
| Connector Types | SC/UPC, SC/APC, LC/UPC, LC/APC, FC/UPC, FC/APC, ST/UPC, MPO |
| Cable Types | Indoor Riser, Indoor Plenum, Indoor/Outdoor, Outdoor (Riser/Non-Rated), Outdoor Armored (Riser/ Non-Rated), FieldShield ® |
| Splice Capacity | Six splices in each Clearview xPAK |
| Storage Capacity | One meter of 900 μm fiber and up to 5 meters of jacketed fiber |
| Material | UV stabilized, flame retardant polymer (PVC) |
Features & Benefits
Integrity
RUS listed
Utilizing the Clearview xPAK, it supports industry standard SC and LC singlemode connectors
Dual snap locks to ensure lid seals to base
Mounting hole pattern for multiple applications
Protection
Radius protected storage for up to 15 feet of buffer tube
NEMA 4 rated
Security screw with ability to secure with padlock
Gasket seal
Ground lug included
Access
Small design facilitates ease of use in crowded environments
Easy to install with both internal and external mounting holes
Two bottom entry/exit points
Investment
Patch and splice or patch only
Surface or pole mount capable
Flame retardant PVC for durability