FieldShield D-ROP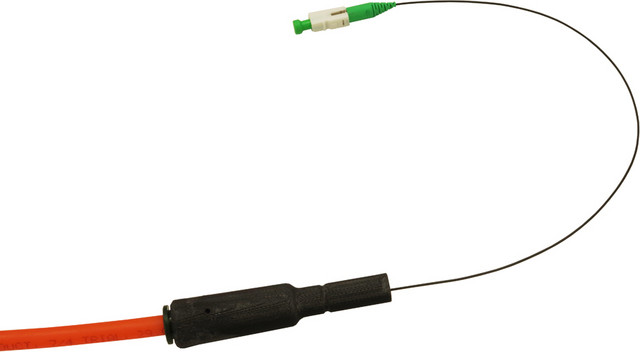 D-ROP cable presents the same footprint as a flat drop cable with the added advantage of being restorable. As with all FieldShield ducted solutions, fiber cuts are located and microduct is repaired with repair kit. Blunt fiber is then pulled and terminated with a spliceon connector, minimizing costs and time to restore the service outage. The pre-installed FlexConnector is plugged directly into the FlexPort opening of the YOURx-Terminal or YOURx-TAP, providing a completely protected pathway from the access point directly to the premise, business or antenna with the option for restoration after accidental fiber cut.
D-ROP does not have the slack storage challenges that a flat drop presents because the duct slack can be peeled or removed leaving only the fiber assembly.
Connector options for this product include FieldShield SC and LC Pushable Connectors or FieldShield MPO Pushable Connector.
FlexConnector Options
Factory Installed: the connector is shipped permanently installed on the preconnectorized cable.

Field Installable: the connector is shipped separately to be installed in the field. This is an ideal solution for eliminating excess slack storage when standard cable lengths are used for custom drop distances. The FlexConnector can be field installed on the pre-connectorized cable (full plug-and-play) or blunt cable followed by a splice-on connector.
Accessories
Field Installable FlexConnector (FSD-FIFC-4PAK)

Installer cuts duct to desired length in the field using a rotary cutter, then snaps on the FlexConnector.  After fusing on the standard connector and passing through the FlexPort, the outer housing is attached and connected to the adapter.  

D-ROP Opener: splitter tool with 7 mm OD (FS-DUCT-OPENER)
Technical Specifications
 FieldShield D-ROP
Outside Diameter
0.276" (7.01 mm)
Inside Diameter
0.146" (3.71 mm)
Material 
HDPE
Connector Type
SC
Operating Temperature
-40°F to 176°F (-40° to 80°C)
Stringing Tension
To local regulations. Recommended not to exceed 0.2 KN
Min. Bend Radius
4.72" (119.89 mm)
Rated Cable Load
270 lbf (1.2 KN) 
Duct Color
Orange (Direct Bury with tone) or Black (Aerial)
Tone Wire
Copper coated steel wire (direct bury only)
Markings
Part number, lot number, footage markers every foot
Breakout Length
12 Inches (304.80 mm)
Features & Benefits
Integrity
Duct is compliant to Telcordia GR-3155
Available with singlemode fiber
Protection
FieldShield FlexConnector provides an air-tight, water-tight connection
FieldShield Direct Bury Microduct has high tensile strength and crush resistance that withstands all types of implementations including open trenching, vibratory plowing and directional boring
Duct is constructed from HDPE to prevent degradation
Access
Available pre-terminated with SC or bulk for field installation
Option for splice-on connector (utilizing fiber matrix 850 µm)
Includes bend-insensitive fiber
The FlexConnector installed onto microduct pushes directly into a YOURx-Terminal or YOURx-TAP
Integrated tone wire simplifies ground locating in direct bury applications
Industry standard orange provides high visibility for direct bury applications
Available for aerial applications
Investment
Available in bulk or pre-connectorized for a labor-lite, plug-and-play installation
FieldShield FlexConnector available in 4 packs for field installations