FieldSmart Fiber Scalability Center (FSC) Cross-Connect Cabinets - 432, 864 and 1,728 Ports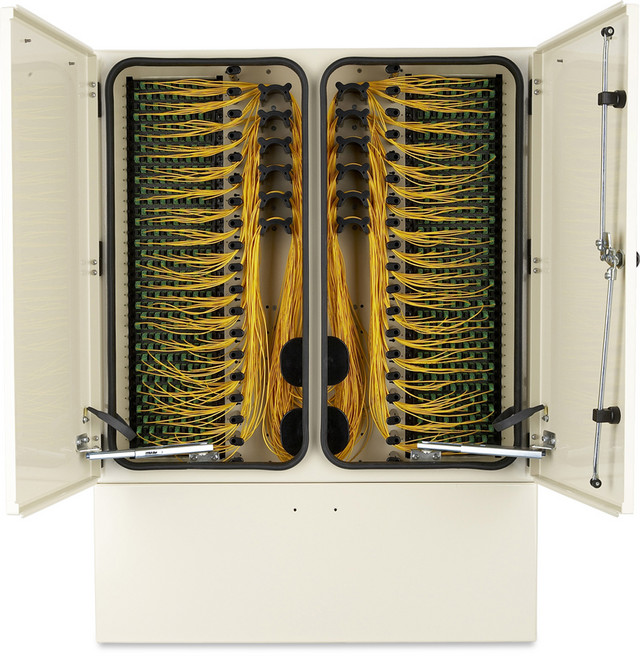 The FieldSmart FSC is equally attractive in a cross-connect configuration, as the cabinet supports a user defined feeder-to-distribution ratio without real estate penalty. Utilizing the same cabinet dimensions as the PON alternative, either 432 or 864 feeder/distribution ports can be deployed.
Like all FieldSmart products, the cross-connect configuration reflects the principles that guide Clearfield:
Integrity in exceeding industry standards and providing a strong network foundation
Protection against damage from handling and harsh natural environments
Access for ease of use and service efficiency in the field
Investment in modular system design for flexibility and growth
The Cross-Connect Cabinet can be adapted easily to suit the needs of fiber deployment for telecommunications or cable TV, or the interconnection requirements of a business/premise project.
With the Clearview ® Cassette as its foundation, the FieldSmart FSC Cross-Connect Cabinet uses the same components as the FieldSmart Fiber Crossover Distribution System (FxDS) deployed in the central office. This enables service providers to standardize on a single building block, allowing them to stock a single fiber management component for either environment. Technicians also have the ease of working with a single fiber architecture for central office or outside plant deployment - saving training and installation time. Using Clearview, FieldSmart changes the rules of fiber management. Optimal access is ensured to all ports and superior fiber protection is integrated within the Clearview Cassette. Through the incremental design of the Clearview Cassette, user capacity can be scaled from as few as 12 ports to the maximum configuration of the cabinet, allowing the service provider to align the investment in capital equipment to the turn-up of revenue-generating circuits. Further, labor and other field costs are minimized through this craft-friendly layout.
Technical Specifications
FieldSmart FSC Cross-Connect Cabinets
432 Port
864 Port
1,728 Port
Dimensions
32" H x 16.78" W x 16.9" D
32" H x 33" W x 16.9" D
64" H x 33" W x 16.9" D
Weight
54 lbs
86 lbs
172 lbs
Port Density
432
864
1,728
Cable Entrances
6
12
24
Mounting Options 
Vault mount; pole mount; pad mount
Vault mount; pad mount
Vault mount; pad mount
Standard Riser Base
4" (6 lbs)
4" (8 lbs)
4" (8 lbs)
Optional Riser Base
12" (12 lbs)
12" (12 lbs)
12" (20 lbs)
Cassette Types Supported
Clearview® Blue and Clearview Classic
Connector Types
SC/UPC, SC/APC, LC/UPC, LC/APC
Cable Types
Indoor/Outdoor, Outdoor (Riser/Non-Rated), Outdoor Armored (Riser/Non-Rated)
Splice Capacity
12 splices in each Clearview Cassette
Ground Locate Box
Yes - Optional
Material
0.125 aluminum with almond powder coating
Features & Benefits
Integrity
Terminations are designed and tested to Telcordia GR-326
Clearfield ® FiberDeep ® Guarantee: 0.2 dB insertion loss or less, exceeding industry standards
Compliant to Telcordia GR-20, GR-409, GR-487, GR-1221 and GR-1209
Constructed with 0.125 aluminum
Powder coated for additional protection
300 series stainless steel fasteners used on all cabinets
Protection
12-fiber Clearview Cassette protects fiber from environmental and human factors
Rugged cable fittings protect the OSP cable breakouts from twisting and pistoning
Patch only buffer tubes are fully protected with ruggedized bend-limiting tubing
Snake skin sleeving provides additional buffer tube slack storage protection and manageability for patch and splice configurations
Access
Clearview Cassette allows for quick visual troubleshooting without opening cassette
Front access to pre-terminated assemblies with Clearview removable adapter plate
Easy two captive fasteners for quick removal of individual cassettes for trouble shooting, splicing or replacing
Front and rear access doors
Top exit available in 432 Cross-Connect Cabinets
Optional ground/locate box available
Investment
Fiber is deployed in increments of 12, providing the users the ability to scale from 12 ports to full capacity, aligning capital investment with network layout or subscriber revenue
Express ports allow for extensions or parallel networks through the cabinet
Patch and splice configurations eliminate costs associated with jacketed IFC cabling, hand-holes and splice cases