StreetSmart Mini Fiber Entrance Cabinet (FEC)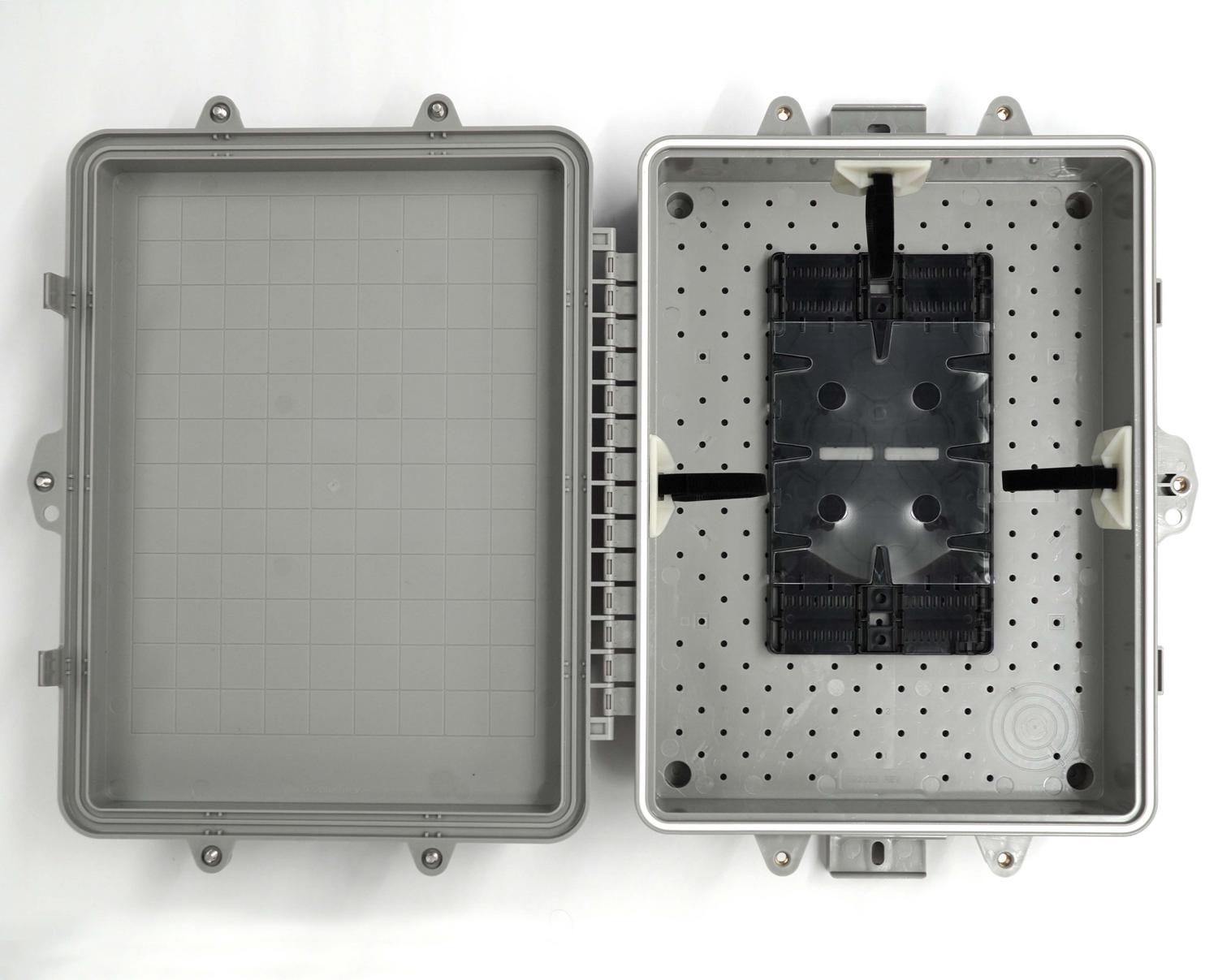 When an application requires splicing IFC (intra-facility) cable to an OSP (outside plant) cable and space is a concern, the StreetSmart Mini FEC is your product of choice. The Mini FEC is a scalable wall box that has a maximum capacity of 96 loose tube splices with cable management and slack storage. Each splice tray comes equipped with a 24-fiber heat shrink fusion splice chip. The Mini FEC is an ideal solution for use in MDUs, SFUs, cell towers and business class services.
Product Details
The Mini FEC can support both indoor and outdoor fiber optics deployments. Each Mini FEC comes equipped with industry standard splice trays, cable management clips, a ground lug and two ship-along cable clamps. Each splice tray can support 24 splices with a maximum capacity of four splice trays per wall box or 96 splices. Slack storage is available for up to 5' per buffer tube and up to 5' (1.52 m)per IFC micro-distribution cable.
Features & Benefits
Integrity
Industry standard splice tray
NEMA 4 rated
Material is high impact flame retardant PVC3 with high column strength and low-coefficient PBT
Protection
Ruggedized storage clips
Security screw with ability to secure with padlock
Gasket seal
Access
Wall mount capable
Two bottom 3/4" (19.05 m)entry/exit ports
Removable splice trays
Investment
Splice trays support both loose tube and ribbon constructions for single and mass fusion (ribbon) splicing
Scalable with 24 splices per tray loose tube or 72 splices per tray ribbon
Complete cable management solution installed from the factory
Two Sealcon connectors are included
Technical Specifications
| Specification | Description |
| --- | --- |
| Dimensions | Inside: 15.24" H x 11.37" W x 4.14" D (387.09 mm x 288.80 mm x 105.16 mm) |
| Splice Density | 96 loose tube heat shrink |
| Storage Capacity Per Cable | 5' (1.52 m) of 3mm loose tube buffer OSP; 5' (1.52 m) of 3mm micro-distribution IFC |
| Mounting Options | Wall mount |
| Materials | High impact and flame retardant PVC3/high column strength and low-coefficient PBT |