WaveSmart Industry Standard Splitter Module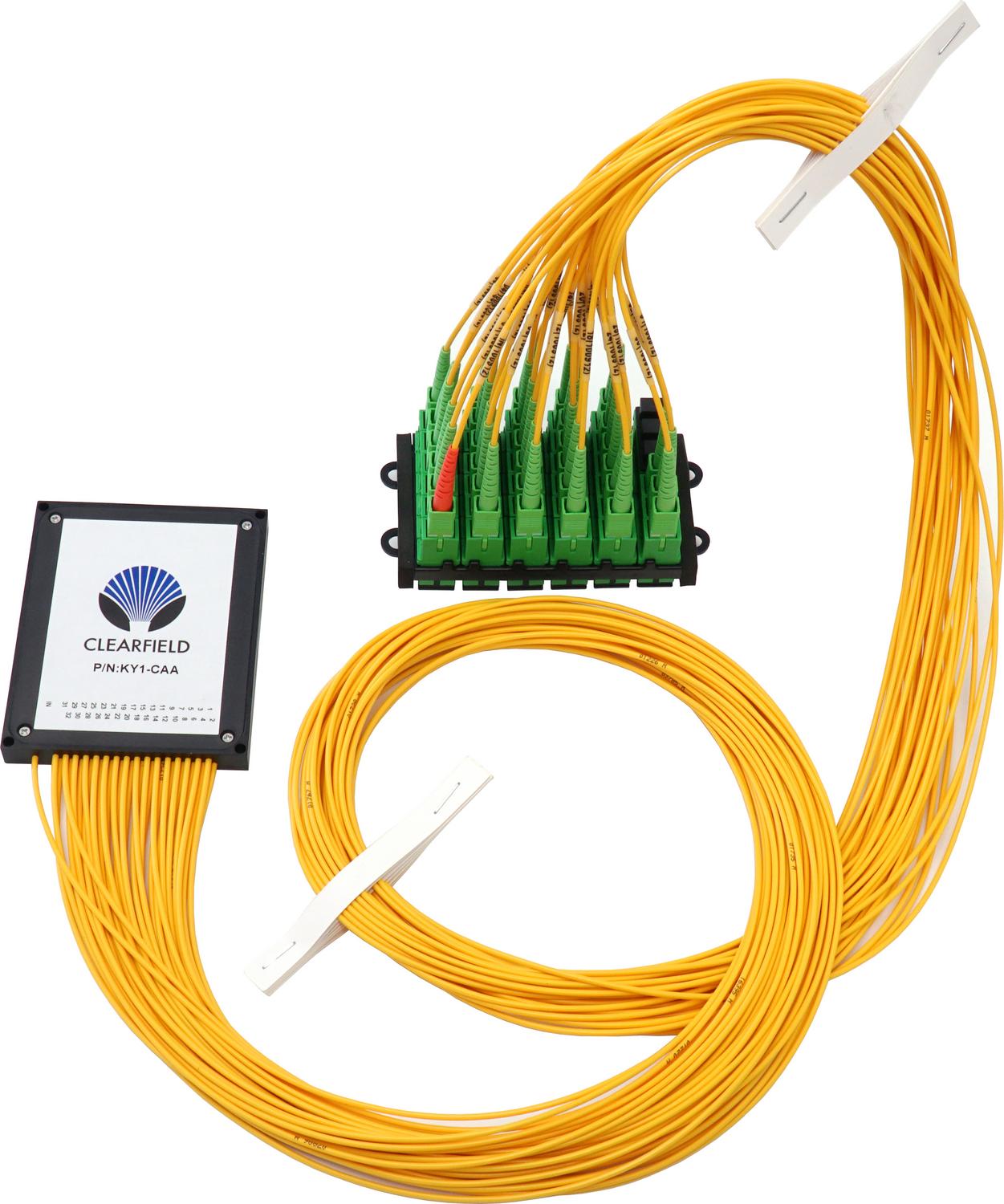 Upjacketed splitter for indoor and outdoor plant cabinet environments.
Product Details
Clearfield®'s WaveSmart Industry Standard Splitter is a proven component in Clearfield's line of optical components. The splitter addresses human handling issues that other splitters in the industry cannot combat. It provides improved fiber protection, management and maintenance in FTTx deployments.
The Optical Staging Plate maximizes space for placing the optical fiber splitter legs of cabinet splitters where real estate is at a premium. Designed with performance in mind, the highly dense WaveSmart Optical Staging Plate allows for quick install and removal of splitter legs using adapters that support "Red Light" port testing for quick identification.
Features & Benefits
Integrity
Terminations are designed to Telcordia GR-326
100% performance tested for insertion loss, return loss and final mechanical inspection
Optical component configuration uses devices that are designed to Telcordia GR 1221/1209
Protection
Splitter module package protects the discrete component while providing superior strain relief on the inputs and outputs
2mm jacket material of input and output legs provide protection in temperatures ranging from -40°C to 85°C (-40°F to 185°F)
5 year warranty
Access
Splitters legs come preloaded in staging plate for easy access and turn-up
Fiber separators every 17" (431.80 mm) to easily recognize and prevent twisting of fiber legs
Each leg is 51" (1295.40 mm) long and able to reach any port
Each leg labeled for easy identification
Red boot on input leg
Investment
Splitter package supports one 1 x 64, 1 x 32, two 1 x 16 or four 1 x 8 configurations without penalty in real estate or port counts
Splitters can be used in:

FieldSmart 288, 432, 576 and 1,152 PON Cabinets
FieldSmart Wall Boxes
FieldSmart 96 port PON-in-Ped
FieldSmart Inside Plant PON Insert

"Grow-as-you-go" - only buy splitters as customer take rates increase
SC/UPC, SC/APC, LC/UPC or LC/APC connectors
Technical Specifications
| Specification | Description |
| --- | --- |
| Dimensions | 100 mm L x 80 mm W x 10 mm H |
| Core Size and Type | Singlemode (G.657.A) |
| Leg Length | 51" |
| Jacket O.D. | 2.0 mm Yellow Riser Rated |
| Connector Types | SC/UPC, SC/APC, LC/UPC, LC/APC |
| Splitter Types | 1 x 64, 1 x 32, 1 x 16, 1 x 8, 1 x 4, 1 x 2 |
| Operating / Storage Temp | -40°C to 85 (-40°F to 185°F) |