FieldSmart Fiber Crossover Distribution System (FxDS) Frame Kit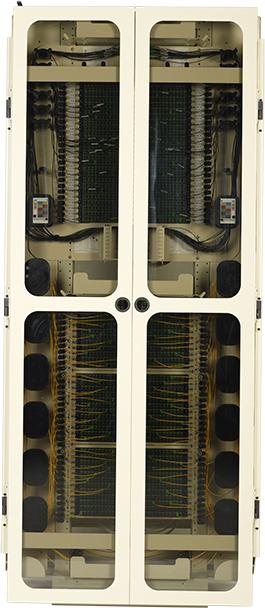 The FxDS Frame Kit is a fully contained fiber management system for the inside plant. The seven foot seismic frame is provided along with full length front and rear doors that provide protection for termination fields, incoming distribution cables and interbay routed jumpers. When used in conjunction with the FxDS panels, ultimate density and protection is offered at "grow-as-you-go" cost.
Product Details
The FieldSmart Fiber Crossover Distribution System (FxDS) provides a system of modular and scalable building blocks to configure a frame system that delivers industry-leading scalability and fiber protection without jeopardizing density or increasing cost.
The FxDS system easily configures for panel placement and scales simply from 12 ports to a full rack of 1,728 ports as needed. The FieldSmart FxDS requires only four unique building blocks (SKUs) to configure initial deployment. The user then adds into the frame whatever is needed as subscriber take rates dictate. The FxDS Frame Kit is an industry standard 7' x 19" (2133.60 mm x 482.60 mm) seismic frame that is easily assembled with a set of vertical interbay slack management panels, two upper and lower crossover troughs and a set of removable doors.
With SmartRoute Trough
SmartRoute Troughing builds upon the cable management functionality with a sleek method of providing a continuous channel for bay-tobay routing in a safe and efficient manner without increasing jumper lengths. SmartRoute Troughing allows the service provider to carry the distance and weight of thousands of jumpers on a horizontal plane. This spreads the pile up and eliminates the risk of micro and macro bends. When used across multiple frames, up to three continuous channels are created allowing bay-to-any-bay routing in a safe and efficient manner.
With PON Kit
Front route troughs are available when the frame is deployed with a PON Kit or for environments where interbay routes are not anticipated.
Features & Benefits
Integrity
Designed to comply to Telcordia GR-449
Zone 4 Seismic Rated
Scales easily from 12 ports to 1,728 ports on a full frame
Easily configured for initial placement
Protection
Complete bend-radius protection of all fiber cable throughout the routing schemes
Diverse route-paths minimize cable pile-up and ensure long term reliability of the circuits
Access
Front and rear access
Interbay for each frame is not shared with adjacent frames to minimize cable crossover and tie-ins, allowing for easy identification
Removable full length doors allows for superior access to routed jumpers and incoming distribution cables
Investment
One frame size (7' x 19"; 2133.60 mm x 482.60 mm) accommodates up to 1,728 ports or 1,152 ports in a PON environment, with full horizontal and vertical slack management support
Compatible with Clearview® optical component packaging that integrates into crossover bulkheads, eliminating the need to dedicate a separate chassis
Fully loaded or "grow-as-you-go" integrations allow the user choices to provide for cost containment as subscriber take-rates dictate
Frame components are used throughout the network from inside plant to outside plant to access networks
Custom configured with common building blocks, it supports any and all applications
Technical Specifications
| Specification | Description |
| --- | --- |
| Dimensions | 7' H x 36" W x 18" D (2133.60 mm x 914.40 mm x 457.20 mm) |
| Ratings | Compliant to Telcordia GR-449 |
| Port Density | 1,728 SC or 3,456 LC |
| Cassette Types Supported | Clearview® Blue  |
| Connector Types | SC/UPC, SC/APC, LC/UPC, LC/APC, MPO (additional options available upon request) |
| Cable Types | Indoor Riser, Indoor Plenum, Indoor/Outdoor, Outdoor (Riser/Non-Rated), Outdoor Armored (Riser/Non- Rated), FieldShield® |
| Splice Capacity | 12 splices in each Clearview Cassette |
| Storage Capacity | One meter of 900 μm fiber |
| Cable Entry Compatibility | Top and bottom (floor) entry |
| Cable Entry Clamp Location | On-frame cable clamps Note: On-frame cable clamps included with FxDS Patch Panels |
| Recommended Jumper Length | Three meters, plus two meters (10' + 6.6') for each additional frame |
| Material | Steel with almond powder coating |