FieldShield Pushable 3mm Optical Cable with 900 Micron Tight Buffer Fiber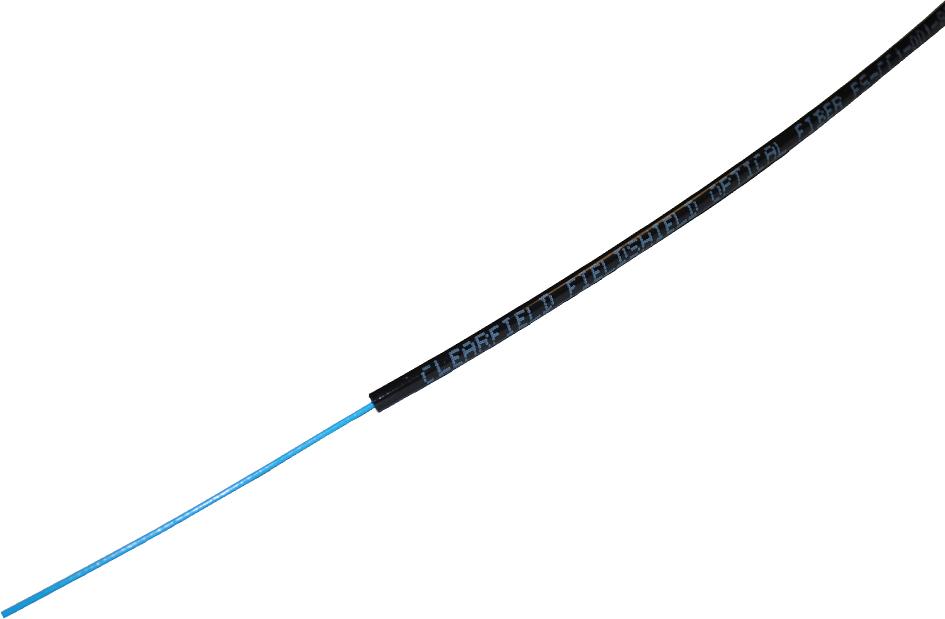 Designed to simplify the placement of fiber, FieldShield Pushable Optical Cable with 900 μm Tight Buffer Fiber reduces the cost of any fiber deployment while providing industry leading protection when mated with FieldShield Microducts. Pushable Fiber is either pushed or pulled through the microduct at turn-up, maximizing installation efficiency. Once deployed, the cable is cut to the specific application length and terminated with a CraftSmart® 900 μm Splice-On Connector.
Product Details
FieldShield Pushable Optical Cable is a durable and crush resistant product that is suitable for most indoor or outdoor environments. Manufactured using PBT jacketing, pushable optical fiber offers flexibility as well as resistance to chemicals. While FieldShield Pushable Optical Fiber is typically used in conjunction with FieldShield Microduct solutions, it is strong enough to be stapled directly to walls and its bend insensitive fiber is flexible enough to go around 90 degree corners.
Connector options for this product include FieldShield SC and LC Pushable Connectors or FieldShield MPO Pushable Connector.
Features & Benefits
Integrity
Available in singlemode
Supports all industry standard connectors
Only solution approved for use with FieldShield Pre-terminated Pushable Connectors
Protection
Bend-insensitive (G.657.A2) fiber protects optical signal with minimal to zero attenuation down to a 10 mm radius
Tough PBT jacketing provides high column strength and low coefficient of friction to maximize push and pull distances
Lightweight and high crush resistance makes Pushable Optical Fiber strong enough to be stapled directly to walls studs, joists and around corners
Access
Standard color is black
Tech-friendly 900 μm fiber inside the outer jacket for applications where CraftSmart® Splice-On Connectors are used
Suitable for all types of indoor and outdoor implementations
Investment
Pushes directly into a Clearview® Cassette, FieldShield is optimized for placement alongside Clearfield® FieldSmart® fiber management platforms
Quick and easy deployment allows capital investment to be aligned to customer take rates
Technical Specifications
| | |
| --- | --- |
| Specification | Description |
| Fiber | OFS All Wave Flex Fiber or equivalent |
| Water Peak | ZWP (Zero Water Peak) |
| Bend Insensitive | Bend-Insensitive Fiber G.657.A2 |
| Color Code | TIA/EIA 598 (US Standard) |
| Fiber Count | 1 fiber |
| Pushable Connectors | FieldShield SC/UPC, SC/APC, LC/UPC, LC/APC |
| Standard Connectors | SC/UPC, SC/APC, LC/UPC, LC/APC, HFOC SC/APC |
| Mode | Singlemode |
| Fiber Size | 900 μm Tight Buffer |
| Color | Black |
| Outside Diameter | 0.118" (3 mm) |
| Material | PBT |
| Rating | UV stable |
| Bend Radius | 10 mm minimum |
| Operating Temperature | -40°F to 176°F (-40°C to 80°C) |
| Installation Temperature | -14°F to 158°F (-26°C to 70°C) |
| Installation Tension | 20 lbf for 3 mm |
| Markings | Part number, lot number and footage markers every two feet (609.60 mm) |
| | |
| --- | --- |
| Specification | Description |
| Clad Diameter | 125.0 ± 0.7 μm |
| Clad Non-circularity | ≤ 1 % |
| Core/Clad Concentricity Error (Offset) | ≤ 0.5 μm maximum, < 0.2 μm typically |
| Coating Diameter (Uncolored) | 900 μm Tight Buffer |
| Coating-Clad Concentricity Error | (Offset) ≤ 12 μm |
|  Tensile Proof Test | 100 kpsi (0.69 GPa) |
|  Coating Strip Force Range | ≥ 0.3 lbf < 2.0 lbf (≥ 1.3 N < 8.9 N) |