FieldSmart Fiber Delivery Point (FDP) 96-Port PON Pedestal Insert or Direct Bury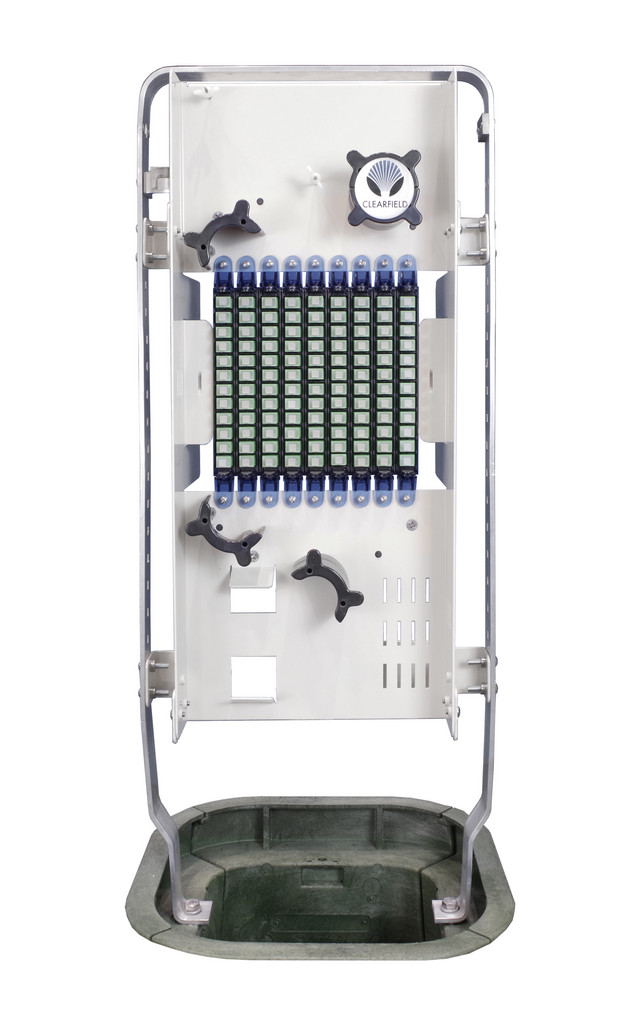 The FieldSmart Fiber Delivery Point (FDP) Pedestal Insert product line incorporates field-tested designs to provide a solution that is easily installed and modified. Whether your environment calls for splice-only drops or demands the sophistication of a Clearview Multiplied solution, a FieldSmart (FDP) Pedestal Insert can be configured to support any access point configuration.
Rather than take a legacy copper approach, the FieldSmart (FDP) Pedestal Insert allows the user to choose the level of protection necessary for their environment. Utilizing both standard pedestals from industry pioneers as well as custom designed solutions optimized for FTTH networks, Clearfield provides pedestal products to ensure your fiber — and your pocketbook are protected.
Field Tested in the Harshest Environments
Whether flood-proof, sealed, or non-sealed, pedestals serve as the access point for the fiber network. Regardless of the deployment strategy, once the access method has been chosen, all must provide the physical connection between it and the customer premise.
Integrating distribution splices, splitters and slack cable for any FTTp deployment, the FieldSmart (FDP) Pedestal Insert product offerings are a cost-effective and flexible option for fiber deployment. Engineered to allow for FTTp rollouts without a large initial capital expense, integrated fiber management minimizes the risk of fiber damage.
With extensive environmental testing in both field and laboratory environments, the FieldSmart (FDP), as well as all other elements of the FieldSmart product line, is listed on the USDA Rural Development Utilities (RDUP) Telecommunications Broadband Loan Program. As an RDUP listed product line, Clearfield is among a select group of suppliers from which service providers can choose when participating in the federal government initiative for broadband deployment projects.
Clearview optimized technology brings scalability to small scale FTTp deployments
The FieldSmart (FDP) 96-Port PON Pedestal Insert Kit provides for drop cable scenarios in the access network with splicing and/or interconnect connectivity with a Clearview Multiplied design. Providing for the ultimate in future-proof flexibility, the FDP Pedestal Insert can be deployed today as a drop only pedestal and easily converted to a distributed PON solution when placing a larger PON cabinet is not desired or cost-effective.
Technical Specifications
Specification
Description
Dimensions
22.41" H x 12.96" W x 11.18" D
Port Density
96
Feeder/Express Ports
12
Cassette Types Support
Clearview® Blue and Clearview Classic
Connector Types
SC/UPC, SC/APC, LC/UPC, LC/APC
Cable Types
Indoor/Outdoor, Outdoor (Riser/Non-Rated), Outdoor Armored (Riser/Non-Rated)
Splice Capacity
12 splices in each Clearview Cassette
Splitter Slots
3
Material
14 gauge cold rolled steel with almond powder coating
Features & Benefits
Integrity
RUS listed
Terminations are designed and tested to Telcordia GR-326
Clearfield® FiberDeep® Guarantee: 0.2 dB insertion loss or less, exceeding industry standards
Inserted into RUS pedestals
Compliant to Telcordia GR-20
Protection
RUS listed industry standard pedestals
Clearview Cassette for physical fiber protection, bend-radius protection, access
Buffer tube slack storage fully bend-radius protected
Both metallic and non-metallic pedestal
Can wrench accessible designs
Access
Lift off dome covers are non-metallic
Clearview Cassette for quick access to terminations
Cupboard style front and rear access--Metallic
Fits into select Channell, Pencell, Emerson metallic BD7, ProFORM 12 and Charles pedestals
Investment
Low cost entry with RUS listed pedestals
Scalable with Clearview Multiplied design for cost alignment to subscriber revenue
Future proof with drop only to PON distributed migration
Patch only or patch and splice configurations supported
Flexible integration into a variety of RUS listed pedestals with simple bracket kits