While the world was excited to learn about the new addition to the British Royal family this week, we made an announcement of our own. Rosa Burns has joined the Clearfield community as our new Chief Revenue Officer. Rosa, who has more than 20 years of experience in fiber optic equipment sales, is heading up Clearfield's global sales team.
Rosa doesn't necessarily have big shoes to fill. (That's because this is a new position.) But she does have big expectations to meet.  Her arrival marks the raising of the bar for Clearfield, as we aim to become the preferred supplier of fiber management and fiber delivery solutions among broadband service providers. Rosa's appointment represents another key milestone in our growth strategy to leverage national carrier approvals and master purchase agreements gained to-date. And we're confident that she's up to the challenge.
You may have heard of Rosa, as she has a highly impressive resume. Her career started as an engineer in the utility and telecommunications industry, followed by extensive technical work with communications networks in the US and Latin America. Her most recent experience included leading the national AT&T account team for 3M, and previously serving large key accounts at Alcatel (now Prysmian).  Oh, and she earned both a Bachelor's and Masters of Science degree in Mechanical Engineering from Texas A&M University.
Rosa brings a wealth of strategic and commercial experience that will elevate Clearfield to the next level as we demonstrate our industry-leading Fiber-to-the-Anywhere solutions.
Our new Chief Revenue Officer is one more important step toward achieving our ambitious growth strategy. I have no doubt that you'll be hearing a lot more about -- and from -- her.
Welcome Rosa. We're so glad you're here.
By Cheri Beranek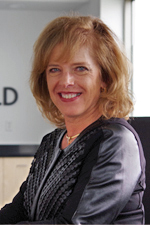 A founding member of Clearfield, Inc., Cheri Beranek is considered a communications visionary. Her extensive leadership experience and unique management style combined deliver outstanding corporate performance.
Ms. Beranek was appointed Clearfield president and CEO in 2007 after having served as President of APA Enterprises' subsidiary APA Cables & Networks. Within 15 months of her appointment, she successfully re-positioned the Company for dramatic growth. Under her direction, Clearfield has reversed 20 years of losses, recorded five consecutive years of profitability and posted historic gains in both the market capitalization and shareholder equity. Today, Clearfield is a multinational business with more than 175 employees and over 580 customers.