Try Working in -104°F at the South Pole to Learn More About Outer Space.
Al Roker has had a lot to say about the Polar Vortex that's sweeping the nation. In fact, almost every media outlet has lead with news of this cold arctic plunge. As I type this, it's 4:30 in the afternoon and 17 degrees below zero (that's Fahrenheit, just to be clear). With clear skies, we're expecting the temp to continue falling throughout the night. The record for today is -30°, set in 1884 — not exactly the record I was hoping to witness during my lifetime!
In an interesting parallel, Clearfield has been involved in a South Pole project that makes these temps seem like a day at the beach. As a brief (and oversimplified) explanation, Clearfield was tapped for its ruggedized fiber jumpers to assist in a couple astrophysics projects in the heart of Antarctica: the "IceCube Project" and the "ARA Project" – created by the Wisconsin IceCube Particle Astrophysics Center (WIPAC). Essentially, they are gathering information from sensors placed deep under the Antarctic ice to learn more about unexplained cosmic phenomena — like exploding stars and black holes. 
With the temperatures falling to -104°F in the winter (and the thermometer scaling to a balmy -15°F in the summer), managing and maintaining a fiber optic network at the South Pole is especially challenging. Success was predicated on products that could stand up to extremely harsh conditions, and provided the capability to transport this data over long distances. Traditional copper solutions fell short, so scientists turned to fiber optics. Here's a case study that provides a deep dive into the process and challenges.
As you can imagine, having confidence in the fiber network and all it entailed is critical to the projects' outcomes. Dr. John Kelley, IceCube Manager of Detector Operations, WIPAC, at the University of Wisconsin—Madison said, "Having truly ruggedized products is incredibly crucial in an extremely cold South Pole environment. A faulty product is the Achilles' heel of networks…and a harsh environmental condition makes this even more difficult to fix. Clearfield's ruggedized fiber jumper cables have amazing quality and stand up to every challenge."
Clearfield is proud to be part of these out-of-this-world projects. So far, no word from Al Roker though.
By Cheri Beranek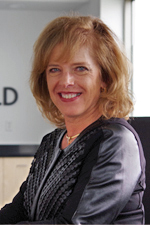 A founding member of Clearfield, Inc., Cheri Beranek is considered a communications visionary. Her extensive leadership experience and unique management style combined deliver outstanding corporate performance.
Under her direction, Clearfield has recorded 10 consecutive years of profitability and posted historic gains in both the market capitalization and shareholder equity. Today, Clearfield is a multinational business with more than 250 employees and over 700 customers.