It was nice… and exhausting.
Sometimes when we think of the "Good Ol' Days," our memory can get clouded. Painters (and photographers) present nostalgic images of painted barns (see above) and sleigh rides to Grandma's house. For most of us, even our childhoods weren't that idyllic.
Don't get me wrong. Growing up on the farm -- and being part of a close-knit family of aunts and uncles and cousins who all lived within a few miles of each other -- was fantastic! There were wonderful traditions of going to Grandma and Grandpa's house (however, not by sleigh-ride) on Christmas Eve followed by Midnight Mass.
But my parents must have just been exhausted. After Mass, we headed back to my grandparents' house so Grandma could make "lunch." If there were lights on at the neighbors, we might have to stop for a "night-cap." After coming home in the wee hours of the morning (carrying sleeping children), and taking a quick nap, the cows still needed their morning attention. Then, excited children, who were waiting not so patiently for Daddy to come in from milking, were ready to tear into Santa's presents.
For my own children, we had a different level of exhaustion. With families living 100 miles apart, I would host my in-laws on Christmas Eve. Then at midnight, rather than go to Mass, we drove two hours so the kids could wake up at Nana and Papa's to spend Christmas Day with that set of cousins. 
Today, our families are even more spread apart. We just enjoyed a visit from our daughter and son-in-law from North Carolina. They will spend Christmas Day enjoying a few moments of rest, crammed between working Christmas Eve and a 12 hour shift on the 26th.
Yet, despite the distance and the generations, nothing has really changed. If we have been blessed with the gifts of a happy family, at holiday time we still yearn for their presence. Perhaps, it's even more of a need today, than those blissful days of the past. In fact, I probably took it for granted when my family lived down the dirt path. Whereas today, I'm so grateful for FaceTime and video chats (Go Broadband!) that make it possible for all of us to spend time together, whether in person or virtual.
By Cheri Beranek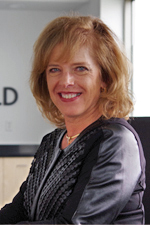 A founding member of Clearfield, Inc., Cheri Beranek is considered a communications visionary. Her extensive leadership experience and unique management style combined deliver outstanding corporate performance.
Under her direction, Clearfield has recorded 10 consecutive years of profitability and posted historic gains in both the market capitalization and shareholder equity. Today, Clearfield is a multinational business with more than 250 employees and over 700 customers.