Like most of America, we were tuned into March Madness last weekend. We cheered on our Golden Gophers (although I had picked Michigan State to beat them in our Office Pool), but the TV ads sparked just as much attention among my family. In particular: the marketing strategy of Bud Light vs. Miller Lite.
Bud Light's ad agency is credited with the creation of some memorable campaigns over the years – including the most recent Dilly Dilly/Game of Thrones themed spots that aired during this year's Super Bowl. The campaign features a mythical king on quest to return Miller Lite's corn syrup that had been mistakenly delivered to his castle. Now, Miller Lite has escalated the Corn Syrup War with a spot spoofing Bud Light's fantasy crew enjoying Miller Lite when the day's filming is done. The tag line: "In the real world, more taste is what matters."  
The two industry giants are "duking" it out, and spending a fortune during tournament –time with nearly every other ad seemingly being about beer.  Now, a lawsuit has been filed. (For more on the campaign wars, click here.)
I don't usually drink beer, so I'm not their target market. Therefore, I really can't assess the effectiveness of these campaigns. But I'm intrigued by Budweiser's attempt to create differentiation through the ingredient list, while Miller sticks with its Who cares? It's the taste approach.  (Surprisingly, Michelob Ultra – the truly lowest calorie beer –  has chosen not to get into the mix.)
Differentiation is an important part of business. At Clearfield, we always invite people to look under the covers. We encourage our customers and prospects to carefully check out all of our "ingredients."
While we're not an industry giant, like Bud or Miller, we are different. And we believe better. (By, the way, I've picked Duke to win it all during the Final Four in Minneapolis, April 8th.)
By Cheri Beranek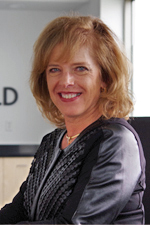 A founding member of Clearfield, Inc., Cheri Beranek is considered a communications visionary. Her extensive leadership experience and unique management style combined deliver outstanding corporate performance.
Under her direction, Clearfield has recorded 10 consecutive years of profitability and posted historic gains in both the market capitalization and shareholder equity. Today, Clearfield is a multinational business with more than 250 employees and over 700 customers.