StreetSmart 144 Fiber Entrance Cabinet (FEC)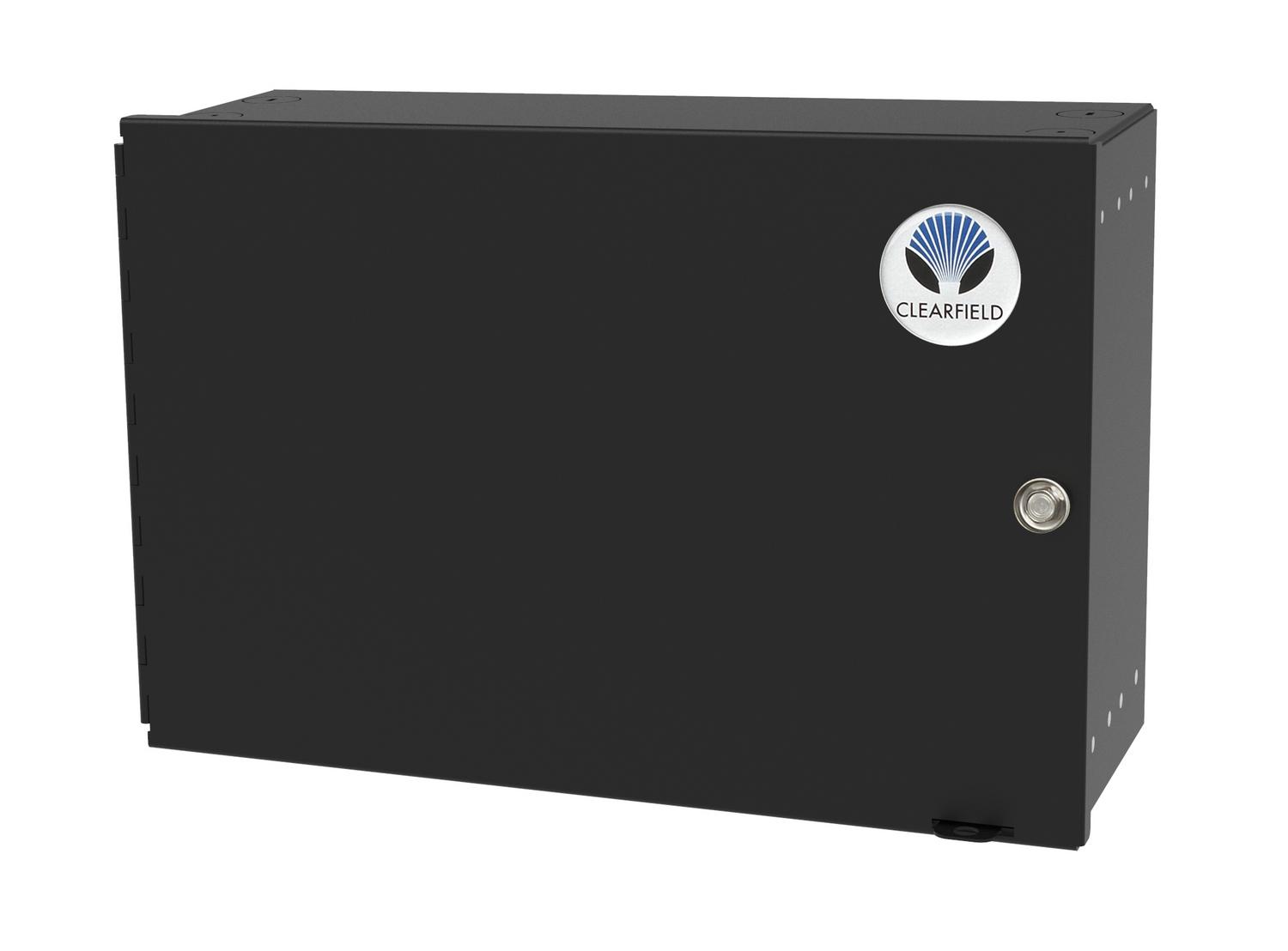 The wall-mountable StreetSmart Indoor 144-Port Fiber Entrance Cabinet (FEC) provides off-frame splicing, storage and protection for the central office, headend or enterprise networks. Fiber Entrance Cabinets are typically placed in the fiber entrance room and used to transition OSP fiber sheaths to IFC cabling.
Product Details
The StreetSmart FEC is built on a modular platform scaling 144 heat shrink fusion (HSF) or 432 mass fusion (ribbon) fiber splices at a time. Multiple entry/exit points allow for multiple distribution and OSP fiber sheaths to enter into the FEC from top or bottom and transition from conduit, overhead fiber tray or raised flooring. The cabinet holds six 24-fiber splice trays, allowing the user access and the ability to prep away from the cabinet. Intuitive buffer tube and sub-unit slack routing prevents cable tie-in with a clockwise routing scheme to allow quick and easy re-entry after initial deployment or to add additional capacity. Multiple cable entry/exit locations are provided on the top and bottom of the housing supporting cable diameters of up to one inch. A lockable door allows for easy access with minimal swing clearance needed for tight aisle clearances.
Features & Benefits
Integrity
Industry standard splice tray
Sturdy construction using 18 gauge steel
Protection
Hinged doors, with removable hinge pin provides extra stability
Ruggedized cable clamps protect against twisting and pistoning at the assembly breakout point
Full bend-radius protection throughout cabinet
Access
Multiple entry/exit points allow distribution and OSP fiber sheaths to enter from top or bottom
Cable entrance plates support cable diameters up to one inch
Removable splice trays provide technicians access to prep outside of the cabinet
Intuitive, clockwise fiber management routing scheme prevents cable tie-in
Ability to store up to 20 feet total of 144 loose tube cable
Investment
Splice trays support a maximum of up to 24 loose tube splices or six 12F mass fusion (72) fibers
Technical Specifications
Specification
Description
Dimensions
10.4"H x 15.3"W x 6.3"D
Ratings
Compliant to GR-449
Cable Types
Indoor Riser, Indoor Plenum, Indoor/Outdoor, Outdoor (Riser/Non-Rated), Outdoor Armored (Riser/Non-
Rated), FieldShield®
Splice Capacity
144 Heat Shrink Fusion (HSF) or 432 Mass Fusion (MF) Ribbon Splices
Storage Capacity
One meter of 900 um fiber and five meters of exposed buffer tube
Material
18 gauge cold rolled steel with almond powder coating