WaveSmart ½ Wide LGX Modular Optical Components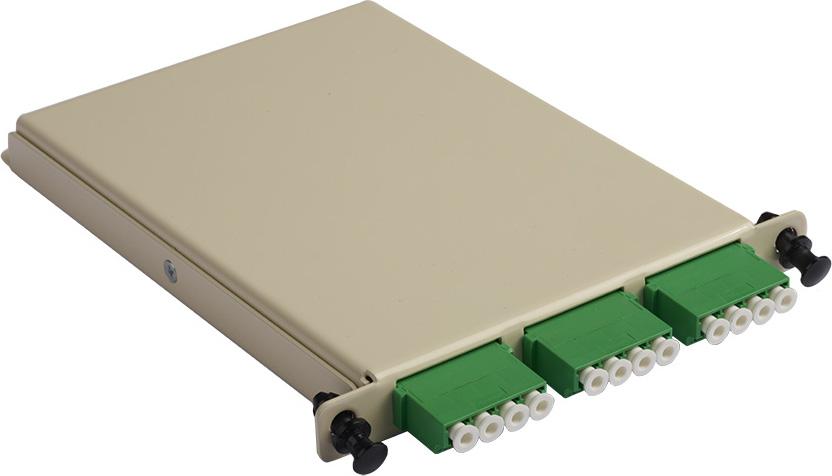 This product is needed when an optical splitter or WDM is required in a central office environment. They are used in CATV headends and telephone company central offices.
Product Details
Modular optical components are splitters or WDMs that are packaged inside this metal housing with three duplex SC adapters or three quad LC female adapters for a total of 12 ports. The LGX modules utilizes a 6" (152.40 mm)high Optical Component Chassis to house the modules in a frame and can hold up to 29, ½ wide LGX.
Features & Benefits
Integrity
Compliant to Telcordia GR-449
Supports industry standard LC adapters
Protection
Ruggedized, secure packaging
Access
Investment
FieldSmart® Optical Components offer an economical, dense and user-friendly solution for deploying splitters or WDMs in a central office design
Any combination of split ratios and number of components up to 12 ports
Clearfield® supports legacy splitter deployments by offering optical components in LGX footprint
Environmentally stable, high-isolation, low-insertion loss
Compliant to Telcordia GR-1221 and GR-1209
Technical Specifications
| Specification | Description |
| --- | --- |
| Dimensions | 0.56" H x 5.12" W x 6.72" D (14.22 mm x 130.04 mm x 170.69 mm) |
| Port Density | SC: 6 (3 dual SC adapters); LC: 12 (3 quad LC adapters) |
| Connector Types | SC/UPC, SC/APC, LC/UPC, LC/APC |
| Optical Component Types | WDMs, FSAN-WDMs, CWDMs, Splitters |
| Splitter Types | 1 x 8, 1 x 4 |
| Panel Type | 6" (152.40 mm) LGX Optical Component Chassis |
| Material | 16 gauge cold rolled steel with almond powder coating |