WaveSmart High Density (HD) Fiber Splitter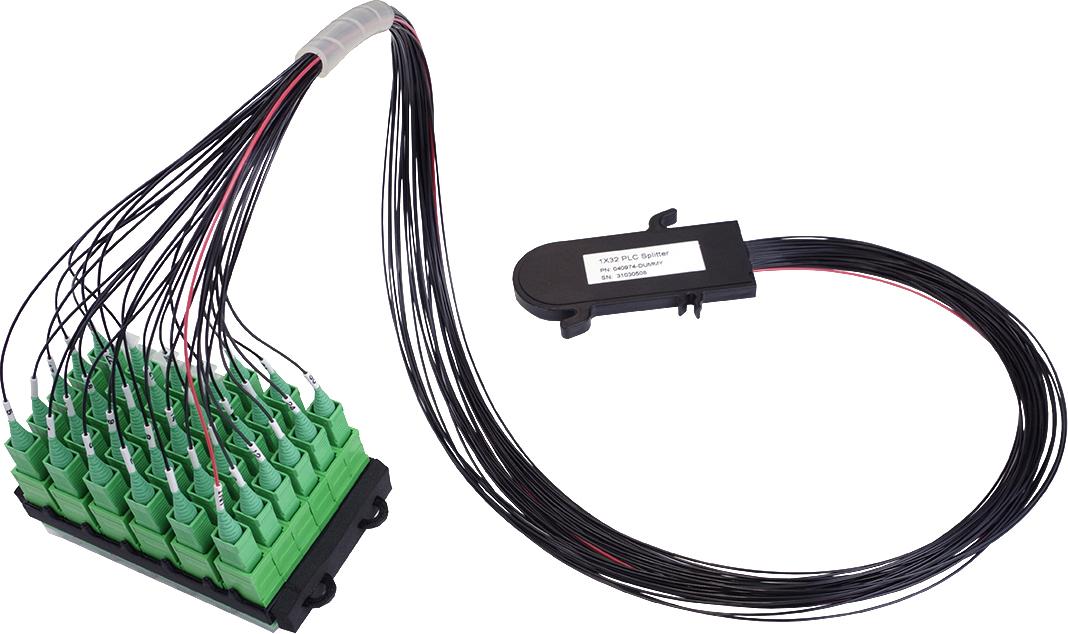 High density splitter for the FieldSmart® Makwa® Fiber Distribution Hub (FDH) and FieldSmart Fiber Deliver Point (FDP) 144 Port PON in Pedestal.
Product Details
The WaveSmart® High Density (HD) Splitter is designed to work with the FieldSmart® Makwa® platform. Consistent with a simple yet innovative design methodology, the WaveSmart High Density (HD) Splitter utilizes a 75% smaller package over earlier designed splitter packages.
The WaveSmart High Density Splitter uses 900 μm jacketed legs and offers superb fiber management. Clearfield® utilizes a special outdoor rated material that not only helps control thermal expansion and contraction, but goes one step further and remains flexible at extreme temperatures down to -40°F. By making it easier to handle, there is less chance that the fiber will be routed incorrectly or that damage will occur during this process.
The Optical Staging Plate, the industry's highest density product supporting ruggedized splitters in hardened environments, maximizes space for placing the optical fiber splitter legs of cabinet splitters where real estate is at a premium. Designed with performance in mind, the highly dense WaveSmart Optical Staging Plate allows for quick install and removal of splitter legs using adapters that support quick "Red Light" port testing or identification.
Features & Benefits
Integrity
Terminations are designed and tested to Telcordia GR-326
100% performance tested for insertion loss/return loss and final mechanical inspection
Optical component configuration use devices that are compliant to Telcordia GR-1221/1209
Protection
WaveSmart's High Density Splitter package protects the Planar Lightwave Circuit in all environments
Inputs and outputs protected using high quality 900 μm up-jacket
Access
Individual splitters come preloaded in staging plate for easy access and turn-up
Each leg is 27" to reach anywhere in the Makwa
Each leg labeled for easy identification
Red jacket on input leg
Investment
Splitter package supports one 1 x 32, two 1 x 16 or four 1 x 8 configurations without penalty in real estate or port counts
"Grow-as-you-go" - only buy splitters as customer take rates increase
SC/UPC or SC/APC connectors
Technical Specifications
| Specification | Description |
| --- | --- |
| Dimensions | 85 mm L x 35 mm W x 6 mm H |
| Core Size and Type | Singlemode (G.657.A) |
| Leg Length | 27" (685.80 mm) |
| Jacket O.D. | 900 μm |
| Connector Types | SC/UPC, SC/APC |
| Splitter Types | 1 x 32, 1 x 16, 1 x 8, 1 x 4 |
| Operating / Storage Temp | -40°C to 85° (-40°F to 185°F) |
<![CDATA[<!-- NOTE: Removing product JSON, as products need to have offers, reviews, or aggregate ratings to be valid as of April 2020. <ui:remove><!-- <cf:decorate template="/SITE-INF/templates/parts/metaDataJSON/JSON-product.xhtml" comments="" /> --></ui:remove> <cf:decorate template="/SITE-INF/templates/parts/metaDataJSON/JSON-product.xhtml" /> -->]]>