Clearview Blue TAP Fiber Cassette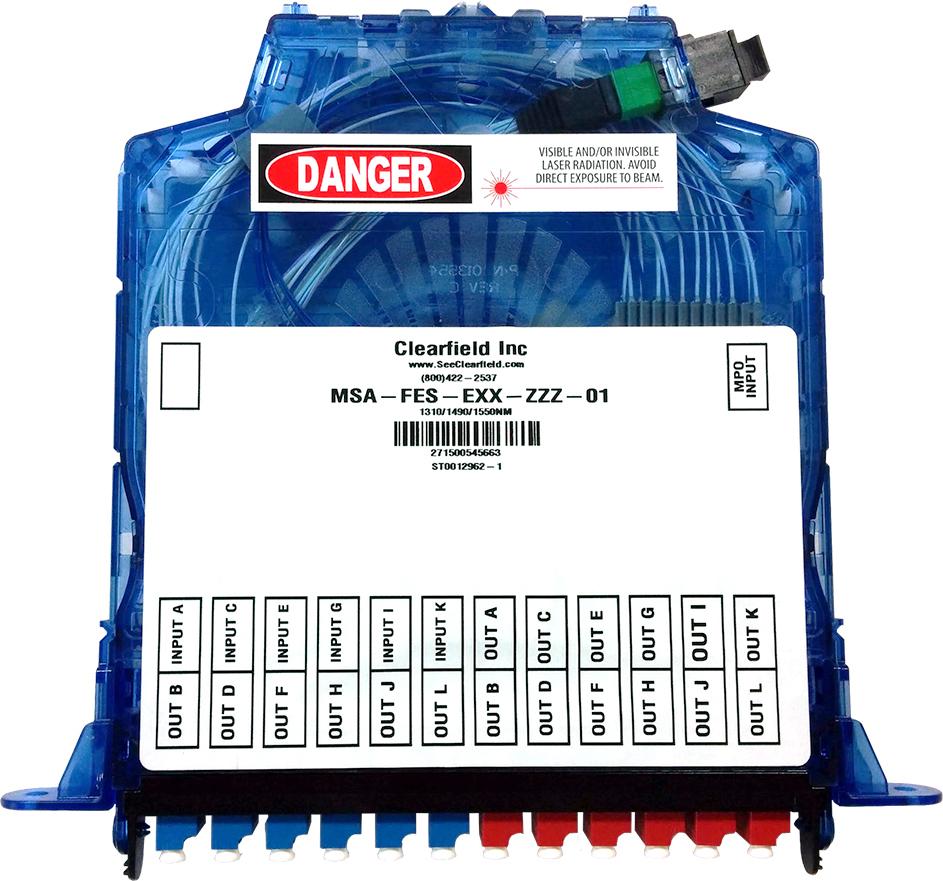 The Clearview Blue TAP Cassette features 12 LC/UPC bi-directional transmit/receive ports and an MPO input to provide a complete plug-and-play solution for managing fibers. The LC/UPC ports connect to each BBU, while the MPO input provides an interconnect or cross-connect to FieldSmart FxDS Tie Panels. Each cassette also contains 12 custom pinned 1 x 2 (50/50 split ratio) FBT splitters. These provide 12 LC/UPC non-intrusive test access ports for live sevice monitoring, troubleshooting and maintenance.
Product Details
Clearview Blue Cassettes are a core building block of every product within the FieldSmart fiber management system. Clearview Blue is a six component tool-less system made up of a top cover, expansion ring, splice tray, buffer tube/ribbon slack storage, cable assembly tray and 12-pack adapter plate. Parts snap together to support desired application requirements. The Clearview Blue TAP Cassette integrates optical components into the same cassette, allowing service providers to mix and match fiber modules within the same chassis.
Features & Benefits
Integrity
Terminations are designed and tested to Telcordia GR-326
Clearfield® FiberDeep® Guarantee: 0.2 dB insertion loss or less, exceeding industry standards
Optical components use devices that are compliant to Telcordia GR-1221 and GR-1209
Protection
Designed to handle the toughest operating environments, provides flexibility and reliable performance
Slack stored, bend-radius protected and secured assembly prevents accidental physical damage from handling
Non-removable adapter plates reduce chance of accidental damage to the optical component
Access
Translucent housing provides quick visual inspection for maintenance, cleaning, and troubleshooting
Easily identifiable splitters with red adapters provide non-intrusive test ports 
Investment
Modular building block design allows cassettes to be configured to user-defined BBU requirements
Technical Specifications
| Specification | Description |
| --- | --- |
| Dimensions | 0.81" H x 6.75" W x 8.28" D |
| Connector Type | LC/UPC to MPO |
| Port Count | 12 Transmit/Receive Ports (Blue) and 12 Test Access Ports (Red) |
| Splitter Type | 1 x 2 (50/50 Split Ratio) |
| Material | Polycarbonate |
| Mounting Options | Clearview Mounting Ears |