CraftSmart Fiber Protection Pedestals (FPP)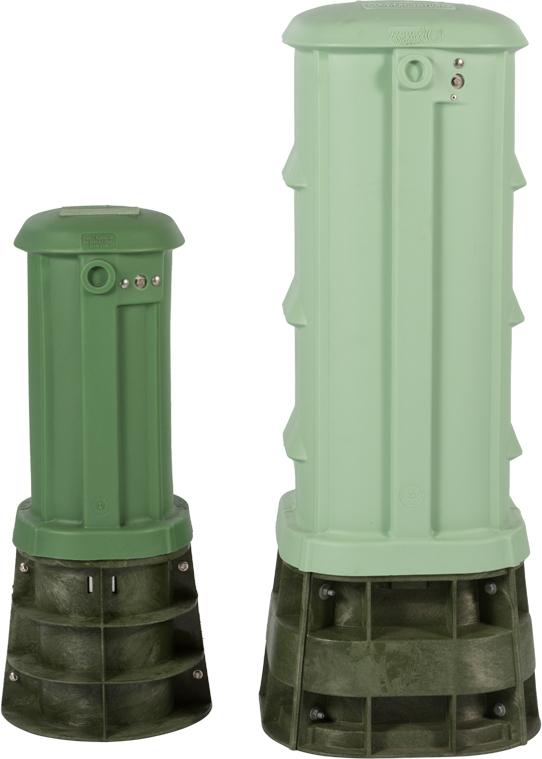 The CraftSmart Fiber Protection Pedestals (FPP) provide a secure, above ground access point for drop cable and/or splitter deployment. They are optimized to be used with a Clearfield® PON in a PED and YOURx™ products.
Product Details
Clearfield's CraftSmart product line provides physical fiber protection for Clearview® Cassette-based products, completing and delivering a turn-key passive solution from the central office/headend to the customer premise. The CraftSmart Fiber Protection Pedestals (FPP) provide the most cost-effective thermoplastic enclosures in the industry - meeting and exceeding the industry standards for strength, reliability and environmental concerns.
FPPs are a two part system - base and cover, with an internal U-channel for mounting various products inside of the pedestal. Designed and tested to withstand the harshest of environmental conditions, including UV, chemical and impact resistance. It is available with stainless steel hex-bolt locking hardware and is formed from a High Density Polyethylene (HDPE) Thermoplastic. The five different size boxes are designed to meet the broad range of fiber, coax and copper needs of the broadband, telecommunications and utilities industries.
These round pedestals are available in light or dark green. They feature direct-bury bases with a removable self-locating and locking cover.
Features & Benefits
Integrity
Constructed of durable, UV resistant material for maximum security and service life
Two part system - HDPE base and molded impact resistant cover
Dark green and light green available
Protection
Self-locating 7/16" (11.11 mm) hex head lock on cover ensures pedestals lock without special alignment
Direct bury base provides a uniform and secure installation, while reducing the chances of leaning or tilting
Access
Three different sizes for maximum flexibility
Internal U-bracket provides multiple mounting options for equipment
Cover lifts completely off for 360 degree access to equipment inside
Investment
High strength rigid construction ensures long term reliability in the harshest environments
Technical Specifications
| Part Number | A | B | C | D | E |
| --- | --- | --- | --- | --- | --- |
| FPP-8820 | 9" (228.60 mm) | 17 3/16" (436.56 mm) | 10 11/16" (271.46 mm) | 13 1/16" (331.79 mm) | 20" (508.00 mm) |
| FPP-101020 | 10 5/8" (269.88 mm) | 17 1/16" (433.39 mm) | 11 3/8" (288.93 mm) | 14 3/8" (365.13 mm) | 20" (508.00 mm) |
| FPP-121230 | 12 3/4" (323.85 mm) | 29" (736.60 mm) | 12 9/16" (319.09 mm) | 17 1/8" (434.98 mm) | 30" (762.00 mm) |
| Part Number | Applications |
| --- | --- |
| FPP-8820 | YOURx-Terminal |
| FPP-101020 | YOURx-Terminal |
| FPP-121230 | YOURx-Terminal, PON in PED Insert |