CraftSmart FiberFirst Pedestal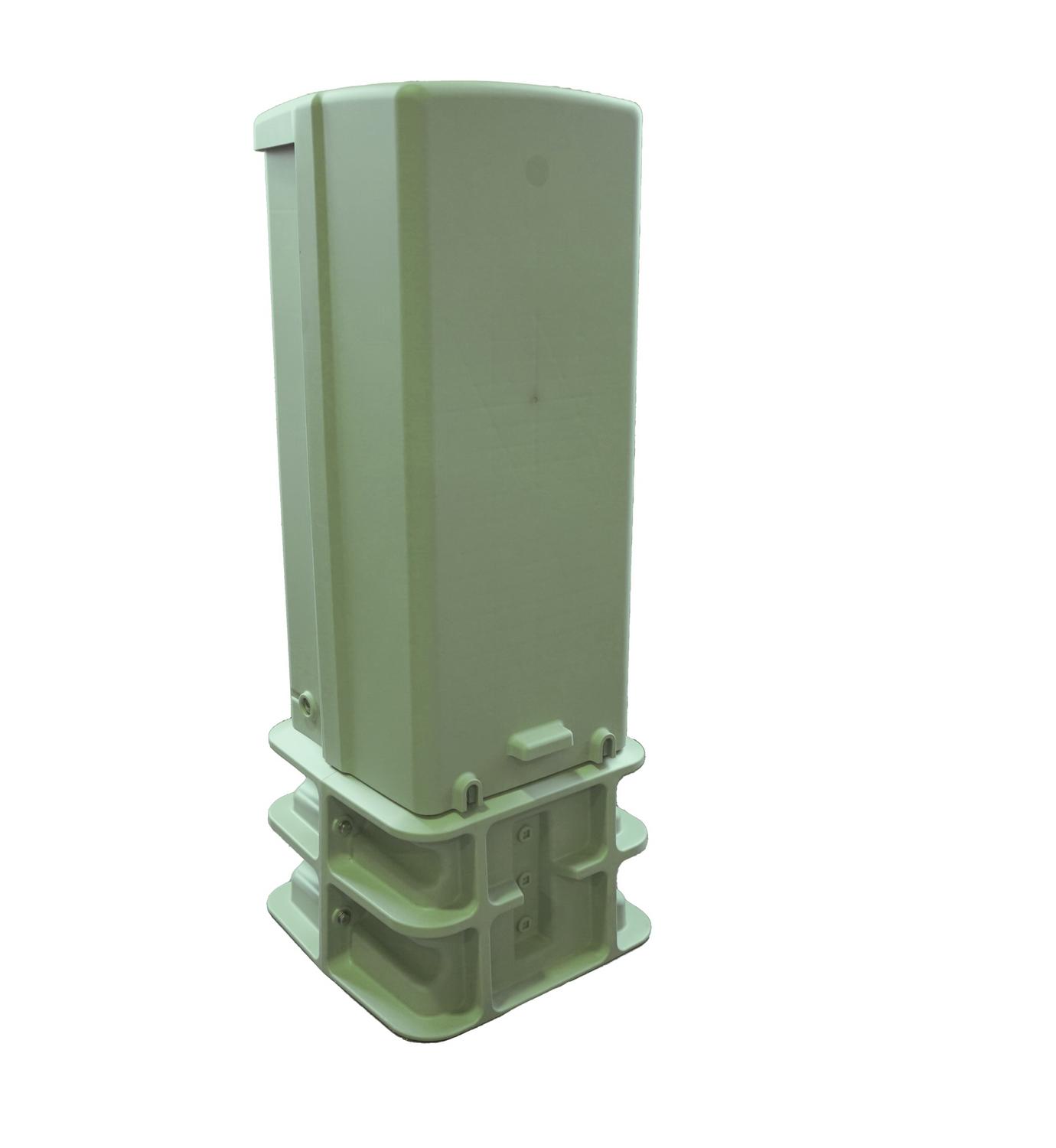 The CraftSmart® FiberFirst Pedestal provides a secure, above-ground access point for fiber-tothe-home (FTTH) networks. The internal components of the pedestal are optimized for fiber-only deployments and offer configuration flexibility to suit the needs of the network.  The unique "open canvas" design provides mounting options for a wide range of Clearfield® products, supporting PON and splice only applications and YOURx® and MPT access terminals.  The unique interlocking cover is designed to be free breathing to minimize condensation and allow any internal moisture to dissipate.
Product Details
Clearfield's CraftSmart product line provides physical fiber protection for delivering a turn-key passive solution from the central office/headend to the customer premises. The CraftSmart FiberFirst Pedestal provides the most cost-effective non-metallic enclosure in the industry - meeting and exceeding the industry standards for strength, reliability and environmental concerns.
Designed and tested to withstand the harshest of environmental conditions, including UV, chemical and impact resistance, the FiberFirst Pedestal consists of a base and 2-part interlocking removable cover measuring 14"W x 12"D x 30"H. The rear wall of the cover includes built in multi-use backplane for mounting various products inside of the pedestal. Two industry standard telco security screws (216) are used to attach and lock the cover to the base. The base of the pedestal includes a built-in feature that allows the customer to add a ground stake to the pedestal.
The FiberFirst Pedestal is designed for maximum flexibility and can be deployed in multiple applications. One pedestal for all applications, eliminating the need for multiple pedestals and reducing the SKU's, allowing the customer to reduce costs.
PON Option
The CraftSmart FiberFirst Pedestal PON option provides a cost effective solution to service up to 144 homes. Each pedestal can be loaded with a single 12-fiber Clearfield feeder cassette and up to twelve cassettes for distribution ports. Splitter compartments give the flexibility to use up to five WaveSmart® Ruggedized or High Density style splitters. The PON pedestal option is ideal for applications where a larger PON cabinet is not desired or cost-effective.
The PON option is available fully loaded with conventional feeder and distribution cable stubs or with Clearfield's FastPass® approach utilizing in-cassette splicing. The FastPass approach significantly reduces installation times allowing for double the number of fiber homes passed in the same amount of time versus conventional cable stub options. The PON option pedestal is also available empty to be used where cassettes are ordered separately to scale to meet a network's evolving requirements. 
Splice Only Option
The CraftSmart FiberFirst Pedestal Splice Only option incorporates field–tested slack management for incoming and outgoing fiber cables and includes craft friendly universal splice trays. Each splice tray supports 12 individual fusion splices or a single mass fusion splice. Up to 12 splice trays can be installed per pedestal. The splice only pedestal option supports drop cable scenarios or mid-span and ring-cut functionality. A ground bar is included for securing armored style cables and toneable drops.
Access Terminal Option
The CraftSmart FiberFirst Pedestal Access Terminal Option is available to support the deployment of all Clearfield Access Terminals. A cable management and mounting bracket kit is available for both the YOURx and MPT (Multi-Purpose) style terminals. These kits are easily installed in the field into an empty FiberFirst Pedestal which is ordered separately.
Features & Benefits
Integrity
Constructed of durable, UV resistant material for maximum security and service life
Two part system –  2-part bolt together base and interlocking 2-part pedestal covers, all made with a high impact resistant Thermoplastic Material 
Designed to meet and exceed GR-13, the unique interlocking cover is designed to be free breathing to minimize condensation and allow any internal moisture to dissipate
Protection
Two-part interlocking cover provides protection from the elements.
Two industry standard telco security screws (216) attach cover to base
Direct bury base provides a uniform and secure installation, while reducing the chances of leaning or tilting
Access
Removable front cover provides complete access to inside of pedestal
Built in multi-use backplane integrated into rear cover provides multiple mounting options for a wide variety of equipment
Investment
High strength rigid construction ensures long term reliability in the harshest environments
Multi-use pedestal can be used and deployed in multiple applications, eliminating the need for multiple specialty pedestals and reducing SKU's
Technical Specifications
CraftSmart FiberFirst Pedestal
| Specification | Description |
| --- | --- |
| Cover Only Dimensions | 14"W x 12"D x 30"H |
| Base Only Dimensions | 16 ¾"W x 16 ⅓"D x 11"H |
| Cover Material | High Impact Resistant Thermoplastic Material  |
| Base Material | High Impact Resistant Thermoplastic Material  |
| Mounting Options | Direct Buried  |
| Security/Locking | 2 - Cupped Telco Security (216) Screws Lock Cover to Base |
| Ground Bar | Include with each Pedestal |
| Ground Stake | Bracket molded into base. Customer supplied ground stake. |
| Application | PON (up to 144 dist. ports), Splice Only Loose Tube or Ribbon, YOURx, MPT or SeeChange Terminals |
Splice Only Pedestal
| Specification | Description |
| --- | --- |
| Density | Up to 288 splices loose tube, 24 ribbon splices (288) |
| Number of Splice Trays | Up to 24 loose tube or 2 ribbon  |
| Splice Capacity | 12 splices per tray  |
| Splice Tray Dimensions | 1/2"H x 61/2"W x 5"D loose tube, 5.3"W X 10.8"H X .86"D ribbon |
| Weight | 30 lbs. |
PON Option
| Specification | Description |
| --- | --- |
| Port Density | Up to 144 |
| Feeder/Express Ports | 12 |
| Cassette Supported | Clearview Blue Cassette - Right Exit |
| Connector Types | SC/UPC, SC/APC, LC/UPC, LC/APC |
| Cable Types | Indoor/Outdoor, Outdoor (Non-Rated), Outdoor Armored (Non-Rated) |
| Splice Capacity | 12 splices in each Clearview Cassette for in-cassette splice option |
| Splitter Slots | 5 - Accepts either Clearfield's WaveSmart HD Or Ruggedized Splitters |
| Weight | 50 lbs. |