Clearfield ODC-100 Cabinet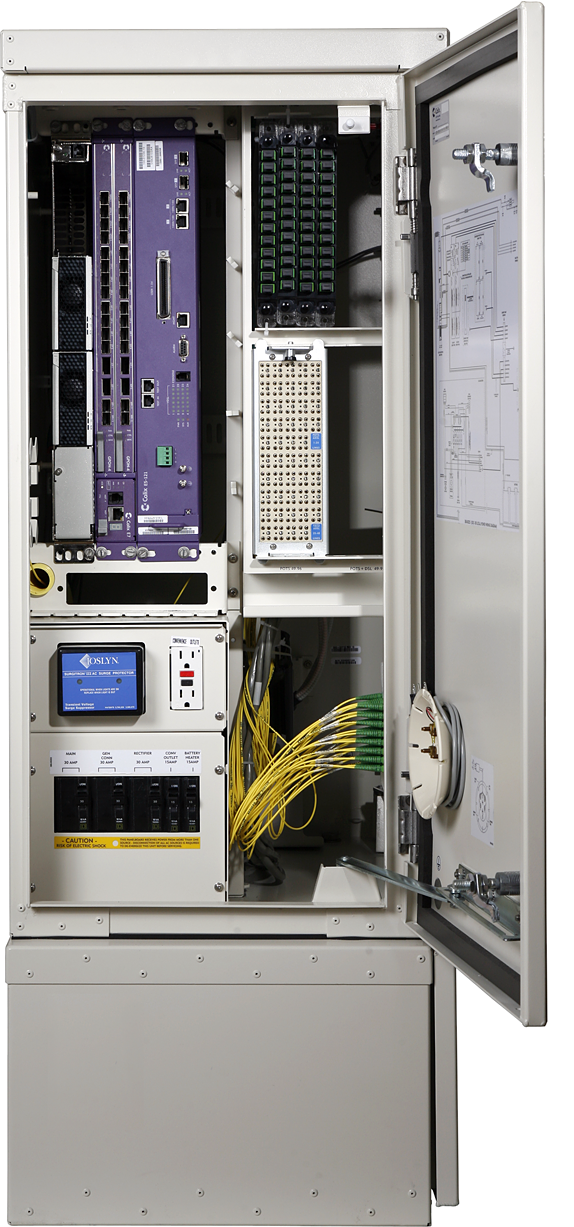 Product Details
The Clearfield ODC-100 broadband enclosure has been designed with the philosophy of modularity and flexibility, while maintaining a maximum heat dissipation capability. It is designed to accommodate the smaller form factor Calix E- or B-Series products and provide all the powering, protection and cable management to serve up to 288 E-Series or 144 B-Series subscribers. The ODC-100 supports copper loop and fiber drop broadband services.
Features & Benefits
MODULARITY:
Clearfield powered cabinets are designed to easily scale from a minimal configuration to the maximum capacity of the cabinet. Design consideration has been taken to enable the customer to field install and scale common options such as line protection, cooling, and cross-connect modules. The enclosures can be configured for as low as 48 lines, and the option of scaling up to the maximum capacity of 288 Combo VDSL2 lines with the Calix E7-2, or 144 lines with Calix B6-001 products.
FLEXIBILITY:
The ODC-100 has been designed to accommodate a variety of standard options that are expected in remote enclosure, such as the battery base, battery warmers, integrated cross-connect, and field changeable distribution frames for copper or fiber based access. The enclosure supports the installation of third party equipment, as well as the ability to connect to the network via either copper or protected fiber uplinks.
POWER OPTIONS:
The ODC-100 enables service providers to power the enclosure using standard AC power, or power it remotely using +/- 190Vdc from a remote power node or a remote power system in the CO. Line or remote network power enables service providers to easily deploy services to subscribers without dependence on the local utility, and without continued battery maintenance.
COPPER TO FIBER ACCESS MIGRATION:
The ODC-100 provides an ideal platform for the migration of copper access services to fiber access infrastructure and electronics. The mount frames in the enclosure support equal concentration of copper pro-panels as fiber distribution frames. The chassis based architecture of Calix E7-2 and B6-001 provide a common infrastructure for copper (ADSL2+ and VDSL2) and fiber access (GPON or AE) service line cards.
EQUIPMENT ACCESS:
The ODC-100 provides frontal and lateral doors, for front and rear access to the equipment within the cabinet. A heat exchanger is built onto the side door as a standard feature of the enclosure. The enclosure is designed to allow access to all complementary elements of a remote deployment such as the integrated cross-connect, copper or fiber cables, copper based transport units, fiber splicing and distribution modules, power and DC distribution systems, AC power and battery charge breakers, AC outlet, etc.
ADVANCED COOLING:
The ODC-100 cabinet has been designed to address heat dissipation associated with the deployment of high density, high-speed services from remote terminal locations. Cooling is achieved via a door-mounted air-to-air heat exchanger that is factory installed and field-maintainable.
Technical Specifications
Specification 
Description
Wired Capacity
Copper: Up to 288 (Calix E7-2) or 144 (Calix B6-001) Combo lines, or 144 Overlay VDSL2/ADSL2+ lines
Fiber: Up to 192 subscriber fiber drops (SC connectors); 6 1 by 32 split PONs, or 144 AE fiber drops
Dimensions
Local AC Power: 48 inches (height) with battery base x 24 inches (width) x 18 inches (depth)
Remote DC Power: 37 inches (height) without battery base x 24 inches (width) x 18 inches (depth)
Weight
Local AC power w/ single 60 Ah battery base: 156 lbs. Equipped with one 60 Ah battery string: 340 lbs
Local AC power w/ dual 60 Ah battery base: 184 lbs. Equipped with two 60 Ah battery strings: 525 lbs.
Remote DC power (no battery base): 135 lbs.
Color 
Warm gray
Environmental
Ambient temperature: –40° C to +46° C (per GR-487)
Cooling
600 Watt cooling capacity with door mount heat exchanger
Mounting Options
Pre-Cast Pad, Pour-in-Place Template, Pole Mount, Wall Mount, Adjunct mount onto host enclosure, Vault/Raiser
Power Options
AC Power feed: 110–240 VAC single phase, 30 Amp service with UL listed service disconnect
Low voltage DC disconnect (–42 Volts)
High power AC surge protection (Joslyn)
Remote Power feed: Twenty ±190 VDC circuits/channels
Redundant –48 VDC feeds to Calix E-/B-Series Product
AC/DC RECTIFIERS
Valere JK-Series Power System
Two 30 Amp rectifier modules, autosenses and adjusts for low and high AC input.
Low input (100–185 VAC): Max. total power output 2500 Watts; Max. total current 50 Amps (2 modules, non-redundant)
High input (185–264 VAC): Max. total power output 3000 Watts; Max. total current 60 Amps (2 modules, non-redundant)
Battery Back-Up
Single or dual 60 Ah battery string
Generator Connector Options
30 Amp NEMA twist lock with breaker and interlock
DC-DC Remote Power System
GE Energy (Lineage Power) CPS2500D: ±190 VDC Downstream Power Converter
10 converter modules maximum; 2 channels per converter module
25 Amp (1300 Watt) max. total capacity
Hold-up Power Capacitor Option
665 W Remote Power Buffer Capacitor
Copper Protection Panels
Standard 5-pin protection blocks—modular in 48-pair increments
Up to six 48-pair protection blocks (288 pairs total for Combo or 144 ports for Overlay)
Cable Management
Copper plant OSP connectors:
MS2 and 710
Integrated cross-connect option: 150- or 300-pair
Equipment Supported
Calix: Two E5-100, three E7-2 or three B6-001 Products
Fiber Management Options
12-Position Fiber Splice Tray (default), upgradeable to 36 position
Support for in-cabinet GPON and Active-E fiber management: Up to 192-position fiber distribution in 48- or 96-port increments assemblies; SC connector
Fiber spool and routing facilities
Integrated Nx 1:16 or 1:32 GPON Splitters (option)
LGX based 6-position cassette for fiber splicing or termination
Safety
UL-60950, Standard for Safety, Issue 1, April 1, 2003
CAN/CSA-C22.2 No. 60950
EMC
FCC Part 15 Class A
ICES-003 Class A
Compliance
Telcordia, GR-63-CORE, NEBS
Telcordia, GR-487, Generic Requirements for Electronic Equipment Cabinets