Clearview xPAK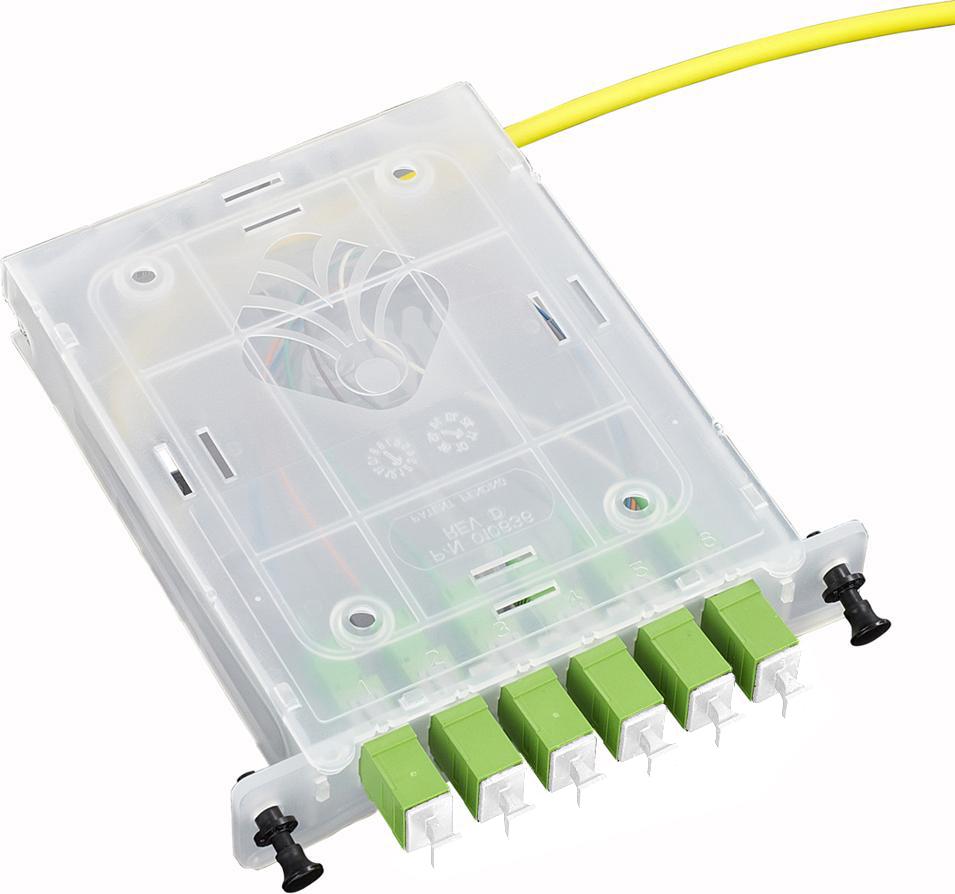 Engineered to land small port count fiber assemblies and optical components as conveniently and inexpensively as possible, the xPAK simplifies fiber management to the level of a consumable good. Clearview xPAK can be deployed as a stand-alone device, or with FieldSmart® Fiber Deliver Point (FDP) products for a wide range of network environments.
Product Details
At first glance, Clearview xPAK looks like any other LGX compatible package, but upon closer inspection, technicians will see a new generation of innovation in the delivery of terminated fiber assemblies. Clearview xPAK is single-piece element in which all required components for fiber protection are integrated. It is shipped flat and simply folds to shape.
The Clearview xPAK supports two, four or six ports of patch and splice (Clearfield's in-cassette splicing solution) configurations. The compact 4" x 5" (101.60 mm x 127.00 mm)solution is perfect for landing small count terminations at the fiber delivery point. The kit comes with everything you'll need: flat cassette, adapters, 2, 4 or 6-fiber 900 μm ½ meter assembly, splice sleeves, strain relief boot, grommet tape, zip ties and universal mounting bracket.
Priced to allow field personnel to carry quantities of Clearview xPAK Cassettes in the field, xPAK is shipped flat and unassembled. At the deployment site, the technician will take the xPAK device, and following pictorial user instructions, will assemble the device to match his field requirements. Integrated into the footprint of the device, is an industry-compatible splicing tray, which is then surrounded with fiber protection elements that support either a two, four or six port fiber assembly as well as a range of optical component devices.
Clearview xPAK is the ideal fiber management device when up to six fibers (or us to 12 LC) are landed or an optical component device is deployed in a remote location. Application environments include cell backhaul, business class service delivery, node segmentation, fiber exhaust in a field pedestal, sub-station turn-up or fiber-to-the-desk deployment.
Configurations
Patch and Splice (Clearfield's In-Cassette Splicing Solution)
The 6-fiber splice tray molded into the xPAK tray is all that is needed to deliver an integrated patch and splice application. 2, 4 or 6-fiber 900 μm ½ meter assemblies are pre-terminated, pre-loaded and slack stored inside the xPAK ready for splicing.
Patch Only
Regardless of the industry standard adapter or cable construction, the pre-terminated length of OSP or IFC cable is pre-loaded within Clearview xPAK for patch only configurations.
MPO Plug-and-Play
MPO to industry standard connectors allows for plug-and-play by mating MPO to MPO with preterminated multi-fiber OSP or IFC.
Optical Components
Optical components can be integrated into the Clearview xPAK.
Features & Benefits
Integrity
Terminations designed, tested and certified to Telcordia GR-326
Clearfield® FiberDeep® Guarantee: 0.2 dB insertion loss or less, exceeding industry standards
Supports industry standard SC, LC, and MPO/MTP singlemode and multimode connectors
100% performance tested for insertion loss, return loss and final mechanical inspect
Protection
Radius protected storage for up to ½ meter of 900 μm jacketed fibers
Durable polypropylene construction (impact plastic)
Integrated fiber management protects fiber from micro-bend and macro-bend damage
Access
Small design facilitates ease of use in crowded environments
Easy assembly - no tools required
Front: 6 SC ports; Rear: 1 SC port and 1 MPO
9 SC port faceplate available
Investment
Pre-configured/pre-loaded factory terminated assemblies
Patch and splice
LGX compatible flange mount
Wall mount capable
One piece construction with "living hinge"
Supports optional component integration
Plug-and-play with MPO configurations
Technical Specifications
| Specification | Description |
| --- | --- |
| Ratings | Terminations are designed and tested to Telcordia GR-326; Clearfield® FiberDeep® Guarantee: 0.2 dB insertion loss or less, exceeding industry standards |
| Dimensions | 1.14" H x 4" W x 5.38" D (28.96 mm x 101.60 mm x 136.52 mm) |
| Mounting Options | Standard faceplate and LGX faceplate |
| Material | Durable polypropylene (impact plastic) |
| Connector Types | Supports industry standard SC, LC and MPO singlemode and multimode connectors |
| Meters/Feet of Slack Storage | ½ meter of 900 μm tight buffer fiber used for internal splicing, 12-fiber xPAK requires ribbon splicing |