Outside Plant (OSP) Fiber Assemblies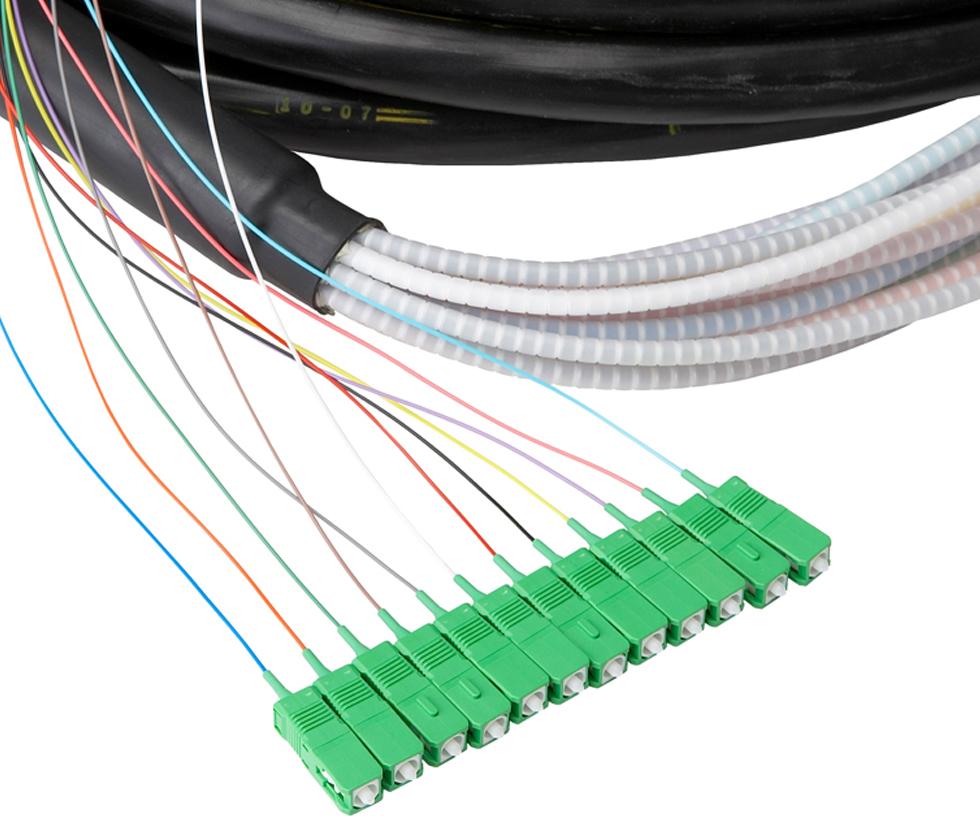 Clearfield® Outside Plant Fiber Assemblies are used in a variety of applications including DLC cabinets, PON cabinets, cross-connect cabinets and fiber termination panels. Standard OSP cable is used and the terminated end of the assembly is up-jacketed with either 900 μm or 2 mm tubing. The assembly is then terminated with the required connectors. Fiber counts can be from 2 to 288 fibers.
Product Details
Clearfield OSP Fiber Assemblies are designed to perform flawlessly in even the most harsh environments. Our process and design directly addresses failure prone areas such as the transition (where the fiber is broken out into individual units) and at the termination. We use a patented process in the fiber transition that not only protects the fiber but also ensures that no lateral movement occurs due to temperature variations. Standard breakouts are half meter and one meter. Clearfield can also do custom breakouts to meet your unique panel needs.
Features & Benefits
Integrity
Cable and terminations are designed, tested and certified to GR-20, GR-326 and GR-1435
Specialty cable designs available including ribbon fiber, loose-tube and ADSS (All-Dielectric Self-Supporting)
Supports industry standard singlemode and multimode fiber
Protection
Rugged cable design protects against harsh outdoor environment
Wide variety of up-jacket sizes for all applications, ruggedized 3 mm, 2 mm, 1.6 mm and 900 μm
Loose tube available in a gel-filled design for full water-block or gel-free
All dielectric design (except armored cable)
Pulling-eye available to ease installation and for added protection
Access
Industry standard terminations include SC and LC (ask a Clearfield representative for other connector availability)
Versatile cable designs well suited for in-conduit, lashed aerial and direct buried applications
Fiber counts from two to 288 in loose tube or ribbon cables (higher fiber counts available)
Investment
Outside Plant Fiber Assemblies offer a rugged solution for deploying fiber in any OSP optical network
Environmentally stable, low-insertion loss, minimal back reflection
All assemblies are 100% tested
Technical Specifications
| Specification | Description |
| --- | --- |
| Core Size and Type | Singlemode and multimode |
| Fiber Count | 2-fiber to 288-fiber |
| Jacket O.D. | 900 μm, 2.0 mm (48-fiber max), 3mm (for MPO terminations only) |
| Cable Types | Outdoor (Riser/Non-Rated), Outdoor Armored (Riser/Non-Rated) |
| Connector Types | SC/UPC, SC/APC, LC/UPC, LC/APC, MPO |
| Operating Temperature | -40°C to 85°C (-40°F to 185°F) |
| Breakout Length | Half meter, one meter, pulling eye, custom |
Minimum Performance Specifications for Terminated Singlemode Connectors
| Connector Type | Ferrule Material | Polish Type | Ins. Loss Typical | Max Ins. Loss | Min. Ret. Loss |
| --- | --- | --- | --- | --- | --- |
| SC | Ceramic | UPC | 0.15 dB | 0.30 dB | 55.00 dB |
| LC | Ceramic | UPC | 0.15 dB | 0.30 dB | 55.00 dB |
| SC | Ceramic | APC | 0.20 dB | 0.30 dB | 65.00 dB |
| LC | Ceramic | APC | 0.20 dB | 0.30 dB | 65.00 dB |
Minimum Performance Specifications for Terminated Multimode Connectors
| Connector Type | Ferrule Material | Polish Type | Ins. Loss Typical (dB) | Max. Ins. Loss (dB) |
| --- | --- | --- | --- | --- |
| SC | Ceramic | PC | 0.25 | ≤0.50 |
| LC | Ceramic | PC | 0.25 | ≤0.50 |