FieldShield StrongFiber Drop Wheel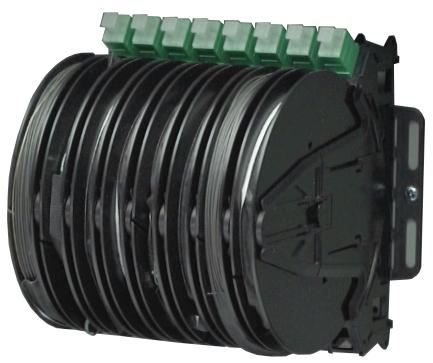 Carriers are faced with key challenges when cabling for both brownfield and greenfield MDU deployments. The challenges are varied and include how to install multiple drops from a single connection point when distances are unknown, accommodating slack storage and ensuring alignment of  capital investment with customer take rates in a plug-and-play design.
Product Details
FieldShield StrongFiber Drop Wheel assemblies address these key challenges with a compact, quick-deploy platform.  Each drop wheel is spooled with 200 feet (60.96 m) of FieldShield StrongFiber, pre-terminated with a pullable SC/APC or SC/UPC connector. The drop wheel is easily deployed by extending the wheel from the cradle and pulling the fiber through the microduct or conduit. Once the pullable connector reaches its destination, the connector is mated to an adapter or directly into an ONT, providing a complete plug-and-play solution. Any remaining slack is stored and managed on the drop wheel.  
Cradle assemblies can be configured to ship unpopulated, allowing for individual drop wheels to be purchased separately to scale and align capital investment with subscriber revenue. Cradle assemblies have the option to be configured with splitters or MPO connector for speedy installations.
Features & Benefits
Integrity
Terminations designed, tested and certified to Telcordia GR-326
StrongFiber is designed, tested and certified to GR-20 
StrongFiber Deploy Reel has been designed, tested and certified to GR-63 
Clearfield® FiberDeep® Guarantee: 0.2 dB insertion loss or less, exceeding industry standards
Supports singlemode SC connectors
Protection
Craft friendly spool technology allows installers to pull the exact amount of cable required
FieldShield StrongFiber bend-insensitive (G.657.A2) fiber protects optical signal with minimal to zero attenuation
Lightweight with low coefficient of friction to maximize pull distances
Access
Black in color
Spooled with small form factor 900 µm 
Indoor implementations 
Investment
Pre-terminated cable spools reduce upfront deployment costs by simplifying site survey inspections
Scaleable, quick and easy deployment allows capital investment to align with customer take rates
Technical Specifications
FieldShield StrongFiber Drop Wheel
Drop Wheel Fiber Type 
FieldShield StrongFiber
Connectors
Pullable SC/APC or SC/UPC to Standard SC/APC or SC/UPC
Cable Length
200 feet (60.96 m) per wheel
Drop Wheel Material
Black Theromoplastic
Drop Wheel Radius
4.55 inches (115.57 mm)
Drop Wheel Cradle Dimensions
4 Position: 5.3" H x 3.3" W (134.62 mm x 83.82 mm)
8 Position: 5.3" H x 5.6" W (134.62 mm x 142.24 mm)
12 Position: 5.3" H x 7.8" W (134.62 mm x 198.12 mm)
16 Position: 5.3" H x 10.1" W (134.62 mm x 256.54 mm)