FieldShield FLEXdrop Fiber Deploy Reel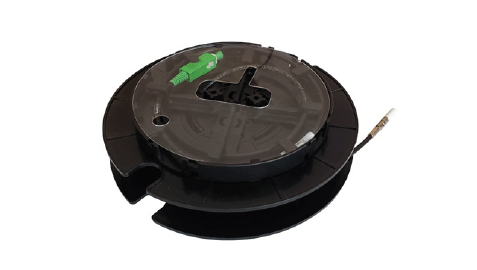 Due to the high variability of MDU architectures, extensive engineering has been required to ensure proper cable lengths for Fiber-to-the-Premise deployments. The 4.5" (114.30 mm) FieldShield FLEXdrop Deploy Reel minimizes pre-engineering because it allows FLEXdrop to be pulled from the reel directly to the access point. Once the pushable connector has reached its destination, the connector assembly is completed with the supplied connector housings and the connector is mated to the adapter. The remaining slack on the reel is pre-stored with no further slack management required. The terminated end on the reel is pre-tested, cleaned and mated in a Clearfield® factory environment, leaving the technician to simply mate the patch cord to the adapter on the reel. The small form factor of the cable assembly and Deploy Reel allows the FLEXdrop to be pulled and slack stored from the customer demarcation point. As an ISP Cable, FLEXdrop reduces pre-engineering and onsite installation time for MDU and riser deployments.
Product Details
The FieldShield FLEXdrop Deploy Reel is a 4.5" x 2.125" (114.30 mm x 54.02 mm) spool designed to hold up to 100 feet (30.48 mm) of FieldShield FLEXdrop. The FLEXdrop 3mm fiber makes slack storage minimal and easy to accommodate, while the exceptional pull strength of FLEXdrop makes it craft-friendly and easy for the technician to handle without fear of fiber damage.
Features & Benefits
Integrity
FLEXdrop fiber cable designed, tested and certified to Telcordia GR-20
Terminations are designed, tested and certified to Telcordia GR-326
Supports singlemode SC connectors
Protection
Deploying FieldShield FLEXdrop with a FieldShield FLEXdrop Deploy Reel allows the installer to payout the exact amount of cable required and leave the remaining slack safely stored on the reel
Access
Straight forward, simple design means installation crews spend less time figuring out how to deploy
Available in 50 and 100 foot lengths
Investment
Pre-terminated cable spools reduce upfront deployment costs by simplifying site survey inspections, reducing labor hours and streamlining cable deployment for SFU and MDU deployments
Technical Specifications
FLEXdrop Deploy Reel
Dimensions
5.8" W x 2.125" H (147.30 mm x 54.02 mm)
Material
Black Thermoplastic
Storage Temperature
-40°F to 150°F (-40°C to 65°C)
Pullable Connectors
FieldShield® SC/APC and SC/UPC
Standard Connectors
SC/APC, SC/UPC
Fiber
FieldShield FLEXdrop 3mm, black and white
Cable Length
50, 75 and 100 foot lengths (15.24 m, 22.86 m and 30.48 m)