FieldSmart FiberFlex 3000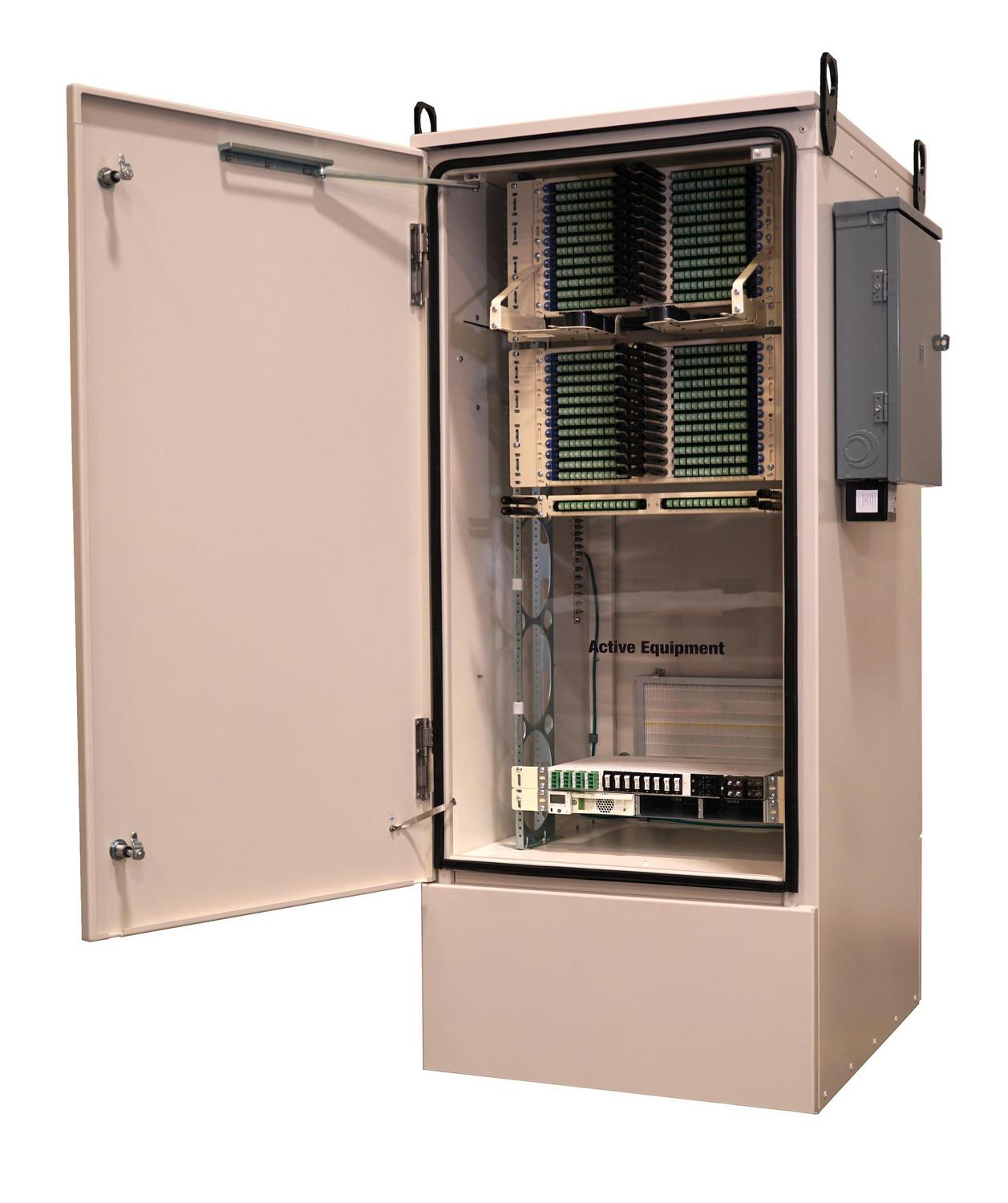 Clearfield's FieldSmart FiberFlex 3000 is optimized as a fiber-first design for a variety of powered cabinet deployment scenarios. The cabinet is designed to configure for numerous applications including remote OLTs with PON distribution, wireless base stations with fiber backhaul aggregation and active network equipment with back-up power needs, utilizing a flexible vertical layout and with a modular design allows for networks to scale for the future growth.
The cabinet's footprint makes it easy to drop into any application with a PAD or vault mount option. Designed to meet GR-487 requirements, the FiberFlex 3000 is the ideal outdoor cabinet solution for the harshest environments.
Product Details
The FiberFlex 3000 is an all-in-one design, capable of integrating fiber, power (AC & DC) and active equipment. This cabinet features flexible vertical options to meet a wide variety deployment environments and is scalable for future growth. The FiberFlex 3000 equipment bay features a 19" or 23" vertical equipment rack to provide options for
36RU active electronics and passive equipment with no batteries
30RU with 1 string of batteries
20RU with 2 strings of batteries
The FiberFlex 3000 provides up to 864 internal fiber distribution ports for subscriber PON deployments, along with complementary splitter capacity. The FiberFlex 3000 accepts local AC power via the integrated AC Load Center with generator plug for back-up power.
Features & Benefits
Flexibility (Optional Add Features)
Environmental controls include HVAC, heat exchangers, direct air cooling. Configured to meet application and location needs.
AC power system with main breaker 12 slot load center and surge protection
Generator Plug 30 amp for long run time back-up power
DC power source sized to meet application and distribution needs
Batteries sized to meet power requirements and back-up power time
LED light to provide better visual experience of equipment installed on the rack
Door alarms dry contacts normal closed to provide intrusion alarm
Space Utilization
Interior rack can be 19' or 23" EIA standard spacing
Various mounting options – Pad mount, Vault mount
Integrity
Door gasket is closed cell and attached to cabinet frame compliant with NEMA standards
Stainless steel hardware to prevent corrosion
Grounding provisions- with ground straps for doors and master ground bar mounted in cabinet
Convenience quad receptacle 15amp
Sunshield to reduce the effects of solar loading
Lifting eyes on four corners of the cabinet to enable ease of installation
GR-487 compliant powder coating of cabinet
Designed to meet UL and NEMA 3R & 4 requirements
Access
Fiber-first design for access storage, routing and protection of fiber
Fiber from 144-864 with splitters or WDMs panel
Standard is Clearview Black Cassette (patch only)
Cable entry ports with removable plate to facilitate ease of installation when using a vault or mounted on concrete pad
Stainless steel door stays adjustable from 90 deg to 120 deg openings
Front and Rear Door with security padlock hasp with ¼ turn sealing mechanism
Mounting plinth 3" to allow craft-friendly installation
Technical Specifications
Specification
Description
Dimensions

Base cabinet with Battery Compartment: 72"H x 30"W x 36"D

Weight

Cabinet: 325 lbs.

Mounting Options

Pour-in-Place Pad Template, or Split Lid Vault

AC Power Center Options

AC Power feed: 240 VAC single phase, 50/60HZ, 125 Amp service with UL listed service panel.

High power AC surge protection

AC/DC Rectifier Option

Configured from 30 amps to 150 amps, consult Clearfield for systems great than 150amps

Battery Capacity

Designed to accommodate 80amp/hr to 200amp/hr front terminal batteries.

For top terminal capacity see Clearfield for further information.

Cooling/Environmental

Direct Air Cooling (DAC), Heat Exchanger (HEX), Air-Conditioning with Heat

Wired Fiber Capacity

Up to 864 Distribution; Standard cassette is Clearview Black for patch only.

Fiber Management Options

Up to 864 position fiber distribution in 144 or 288-port increments, SC/APC connector, loose tube or ribbon. Splitters and WDM in various ratios available

Configurable transport module for fiber separation of subscriber and active equipment transport

Available Rack Units

36RU, 30RU, 20RU, depending on configuration selected.

Using the modular design, RU space to increase increments

Safety and Compliance Designed to

GR-326, pending UL508a