FieldSmart ZoneBox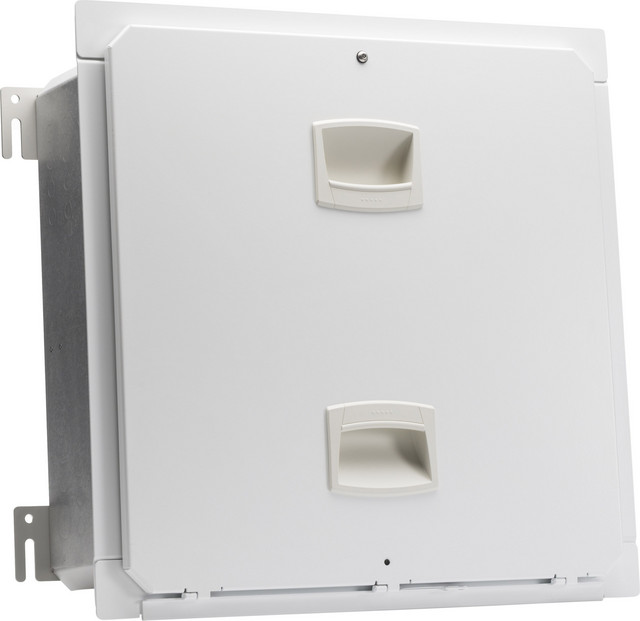 The FieldSmart ZoneBox is a small base box designed for ceiling or floor POLAN environments. Passive Optical Local Area Networks use established FTTH GPON technologies to deliver high speed bandwidth to the desktop in business environments. When running fiber to the desktop, the FieldSmart ZoneBox is used to break out IFC distribution cables into individual drops, utilizing splitters, to maximize network efficiency. In addition, the FieldSmart ZoneBox can be used as a transition point inside buildings. POLAN technology helps create a simple network design that reduces time, cost of provisioning, and upgrades.
Utilizing the Clearview ® Blue Cassette, the FieldSmart ZoneBox provides a POLAN sub floor or ceiling mount enclosure that easily scales from 12 to 144 ports. Preloaded for patch only, patch and splice or MPO plug-and-play applications, the ZoneBox can be shipped loaded with your industry standard adapter of choice, while supporting all cable constructions for inside plant environments. The FieldSmart ZoneBox is a solid enclosure designed to protect fiber terminations from damage. Access is provided by a hinged cover for ceiling applications or removable cover that pulls off for sub floor applications. When used for PON applications, the FieldSmart ZoneBox supports the ability to house up to six splitter modules, including a single 1 x 32 splitter. The FieldSmart ZoneBox provides a swinging bulkhead for rear- access to the cassettes and protects sub-unit slack storage.
Designed from conception to provide fast, easy fiber jumper routing and ease of access to all circuits, the FieldSmart ZoneBox system is craft- friendly, keeping the installer's needs for quick deployment, intuitive use and ease of maintenance as the top priorities.
Technical Specifications
| Specification | Description |
| --- | --- |
| Dimensions | 20.88" H x 21.58" W x 8.75" D |
| Port Density | 12 Feeder Ports - Up to 144 Distribution or Cross-Connect Ports |
| Cassette Types Supported | Clearview ® Blue |
| Connector Types | SC/UPC, SC/APC, LC/UPC, LC/APC, FC/UPC, FC/APC, ST/UPC |
| Cable Types | Indoor Riser, Indoor Plenum, Indoor/Outdoor, FieldShield ® |
| Splice Capacity | 12 splices in each Clearview Cassette |
| Storage Capacity | Up to 5 meters of 12-fiber IFC Micro Distribution Buffer Tube |
| Material | Anodized Aluminum |
Features & Benefits
Integrity
Terminations are designed and tested to Telcordia GR-326
Clearfield ® FiberDeep ® Guarantee: 0.2 dB insertion loss or less, exceeding industry standards
Compliant to Telcordia GR-20 and GR-409
Supports all industry standard singlemode and multimode connectors
100% performance tested for insertion loss, return loss and final mechanical inspect
Protection
12-fiber Clearview Cassette houses each 12-fiber increment of patch only or patch & splice, protecting fiber from the environment and human factors
Patch only buffer tubes fully protected with ruggedized bend limiting tubing
Small splitter package for minimal space requirements, ruggedized jacketing on input/output legs and bend insensitive fiber
Access
Clearview Cassette allows for quick visual troubleshooting without opening the cassette
Front access to pre-terminated assemblies with Clearview removable adapter plate
Easy two captive fasteners for quick removal of individual cassettes for troubleshooting, splicing or replacement
Knock-outs for ducts, cables and couplings
Investment
All fiber deployed in increments of 12, providing the users the ability to scale from 12 ports to full capacity aligning capital investment with network layout or subscriber revenue
Patch and splice configurations eliminate costs associated with jacketed IFC cabling, hand-holes and splice cases
Scalable to 144 ports of fiber using Clearview Cassettes loaded with interface of your choice