FieldShield Hardened Pushable Connector Y-Adapter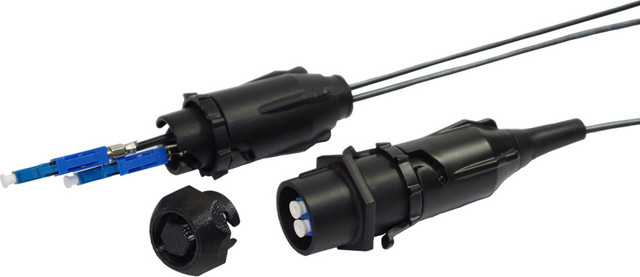 Designed to simplify FTTH installations, the FieldShield Hardened Pushable Connector Y-Adapter provides the components to split a FieldShield Dual LC drop cable into two simplex LC drop cables, while extending the service access point to the customer lot line. Deployable in two stages, the Bulkhead Adapter Kit provides a LC adapter in a small re-enterable bulkhead, which can be direct buried or deployed in an OSP access enclosure of choice. When customer service is required, the Service Turn-Up Kit accepts up to two LC drop cables which can be depoyed independently.
Features & Benefits
Integrity
Optimized for use with FieldShield Microduct and Pushable Fiber
Accepts FieldShield Pushable LC and Dual LC Connectors
FieldShield Assemblies are pre-terminated and 100% pre-tested for I.L./R.L.
Protection
Black UV resistant thermoplastic design to resist corrosion
Environmentally sealed housing providing maximum reliability and durability in the harshest OSP environments
Hardened Pushable Connectors provide bend-limiting, strain relief protection for FieldShield Pushable Drop Cable and Feeder Assemblies
Access
Compact Hardened sealed design allows placement above or below grade
Hardened Dual Cable Connector can also be used to distribute two separate drops directly from a single port on the FieldShield SmarTerminal
Investment
FieldShield Pushable Feed and Drop Cables reduce installation time and labor costs by removing expensive splicing labor
Reduces initial installation costs by bringing two fibers to the lot line, while giving you the option of only turning up one customer at a time from the Y-Adapter