FieldSmart FxDS Patch Panels - NEBS Level 3 Certified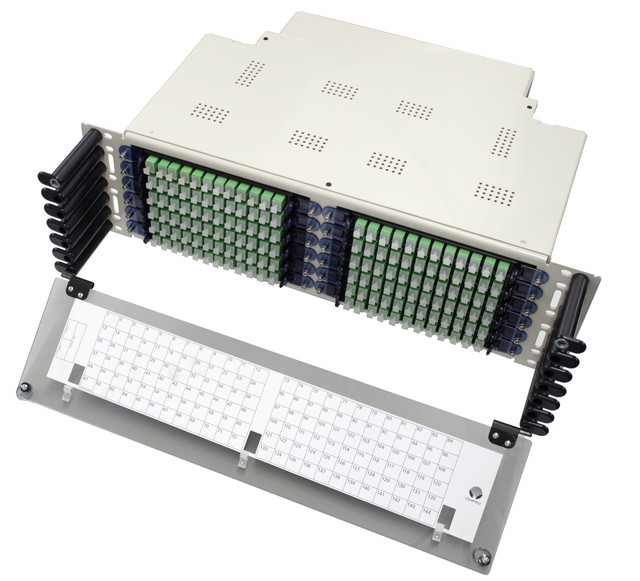 The FieldSmart FxDS NEBS Level 3 Certified Panel is a high density, low maintenance fiber distribution panel for use in a 19" or 23" frame. Utilizing the Clearview® Cassette, FieldSmart FxDS Panels are intelligently designed to provide the user with superior fiber access and craft-friendly, radius protected, fiber management for routing and deploying fiber jumpers.
Stand Alone Panel in 19" or 23" Frame
When you already have the frame and want to add just a panel or two of incremental fiber management, the FxDS is configured with front and rear protection blocks for complete slack storage and physical fiber protection.
Stand Alone in a Data Cabinet
When you already have a data cabinet and simply need to add fiber management, the FxDS can be configured without the front protection block, providing all the fiber protection you need without the added cost.
Stand Alone Panel in an OSP Cabinet
Make the crossover into the OSP with the identical product. Patch only environments are supported without additional components, while a rear protection block enables patch and splice configurations. The common architecture saves you time and money in reducing inventory costs and shorter training periods.
Technical Specifications
FieldSmart FxDS NEBs Panels
Port Density
24
72
96
144
288
Dimensions
1.75" H
3.5" H
4" H
6" H
11" H
Ratings
Compliant to Telcordia GR-63, GR-449, GR-20 and GR-409
Cassette Types Supported
Clearview Blue®
Connector Types
SC/UPC, SC/APC, LC/UPC, LC/APC, FC/UPC, FC/APC, ST/UPC, MPO
Cable Types
Indoor Riser, Indoor Plenum, Indoor/Outdoor, Outdoor (Riser/non-rated), Outdoor Armored (Riser/non-rated), FieldShield
Splice Capacity
12 splices in each Clearview Cassette
Storage Capacity
One meter of 250 µm fiber
Front Protection
3.25" radius fingers
Material
Steel and aluminum with almond powder coating
Features & Benefits
Integrity
NEBS Level 3 GR-63 and GR-1089 certified
Optical component configurations use Telcordia GR 1221/1209 compliant devices
Terminations are designed and tested to Telcordia GR-326
RUS listed
Supports all industry standard singlemode and multimode connectors
Protection
Removable front cover
Individual radius fingers provide organized circuits by 12-fiber sub-units or buffer tubes
Ruggedized cable clamp protects against twisting and pistoning at the assembly breakout point
Pre-terminated OSP buffer tubes are protected by bend-limited tubing and have their slack stored inside the panel to protect against environmental and human damage
Access
Front access to pre-terminated assemblies with removable adapter plates for testing, cleaning and maintenance
The entire 12-fiber Clearview Cassette is removable for hot-swap changes
Front and rear access to panel
On- or off-frame splicing configurations support cable constructions up to 144-fiber 
Investment
• Using the Clearview Cassette, all fibers are deployed in increments of 12, allowing users to scale from 12 ports to full configuration without additional equipment