Breakout Assemblies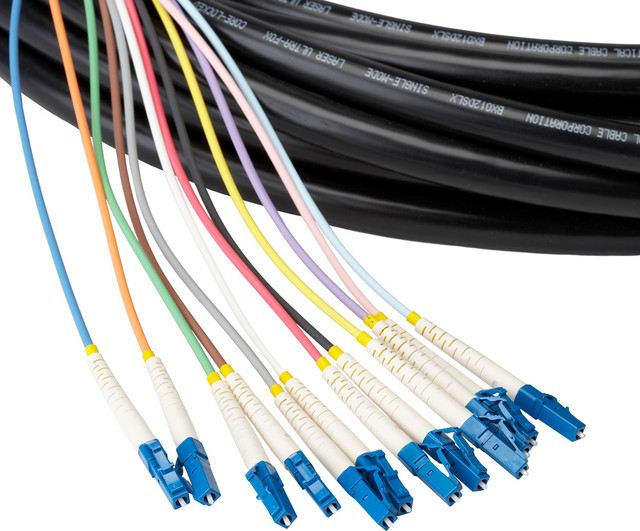 Breakout style assemblies are easy to install and simple to terminate without the need for fan-out kits. The indoor/outdoor version of this cable is durable and OFNR rated. While it can be used indoors, it also has a -40°C to 85°C operating temperature range and the benefits of fungus, water and UV protection making it perfect for outdoor applications. The indoor/outdoor versions come standard with 2.5 mm sub units. The indoor only cable is standard with 2 mm sub units.
Consider using indoor/outdoor versions for use in DLC cabinets or OSP electronic cabinets as a "tip" cable. The blunt end will be spliced in a splice vault and the other end will be plugged into the electronics inside the cabinet.
The 2 mm indoor version are ideal for use in cross-connect solutions. One end is loaded into the rear of a patch panel and the other end can be staggered to match any active gear blade.
Technical Specifications
| Specification | Description |
| --- | --- |
| Core Size and Type | Singlemode and multimode |
| Fiber Count | 2-fiber to 48-fiber |
| Jacket O.D. | 2.0 μm (indoor), 2.5 μm (indoor/outdoor) |
| Cable Types | Indoor Riser, Indoor/Outdoor (Riser) |
| Connector Types | SC/UPC, SC/APC, LC/UPC, LC/APC, FC/UPC, FC/APC, ST/UPC |
| Operating Temperature | -40°C to 85°C (-40°F to 185°F) |
| Breakout Length | Half meter, one meter, pulling eye, custom |
Minimum Performance Specifications for Terminated Singlemode Connectors
| Connector Type | Ferrule Material | Polish Type | Ins. Loss Typical | Max Ins. Loss | Min. Ret. Loss |
| --- | --- | --- | --- | --- | --- |
| ST | Ceramic | UPC | 0.15 dB | 0.30 | 55.00 |
| SC | Ceramic | UPC | 0.15 | 0.30 | 55.00 |
| FC | Ceramic | UPC | 0.15 | 0.30 | 55.00 |
| LC | Ceramic | UPC | 0.15 | 0.30 | 55.00 |
| SC | Ceramic | APC | 0.20 | 0.30 | 65.00 |
| FC | Ceramic | APC | 0.20 | 0.30 | 65.00 |
| LC | Ceramic | APC | 0.20 | 0.30 | 65.00 |
Minimum Performance Specifications for Terminated Multimode Connectors
| | | | | |
| --- | --- | --- | --- | --- |
| Connector Type | Ferrule Material | Polish Type | Ins. Loss Typical (dB) | Max. Ins. Loss (db) |
| ST | Ceramic | PC | 0.25 | ≤0.50 |
| SC | Ceramic | PC | 0.25 | ≤0.50 |
| FC | Ceramic | PC | 0.25 | ≤0.50 |
| LC | Ceramic | PC | 0.25 | ≤0.50 |
| ST | Stainless Steel | Flat | 0.40 | ≤0.75 |
Features & Benefits
Integrity
Terminations are designed and tested to Telcordia GR-326
Specialty rugged cable designs
Supports industry standard singlemode and multimode fiber
Protection
Rugged cable design protects against harsh indoor and outdoor environments
Wide variety of jacket sizes for all applications, ruggedized 3 mm, 2.5 mm and 2 mm
Riser and Plenum and fire retardant rated cable jackets available
Pulling-eye available to ease installation and for added protection
Access
Industry standard terminations include ST, SC, FC, LC (Ask a Clearfield ® representative for other available connectors)
Versatile cable designs well suited for in-conduit, lashed aerial and direct buried applications
Fiber counts from 2 to 48
Investment
Breakout Fiber Assemblies offer a rugged solution for deploying fiber in any indoor/outdoor optical network
Environmentally stable, low-insertion loss, minimal back reflection
All assemblies are 100% tested