FieldSmart Makwa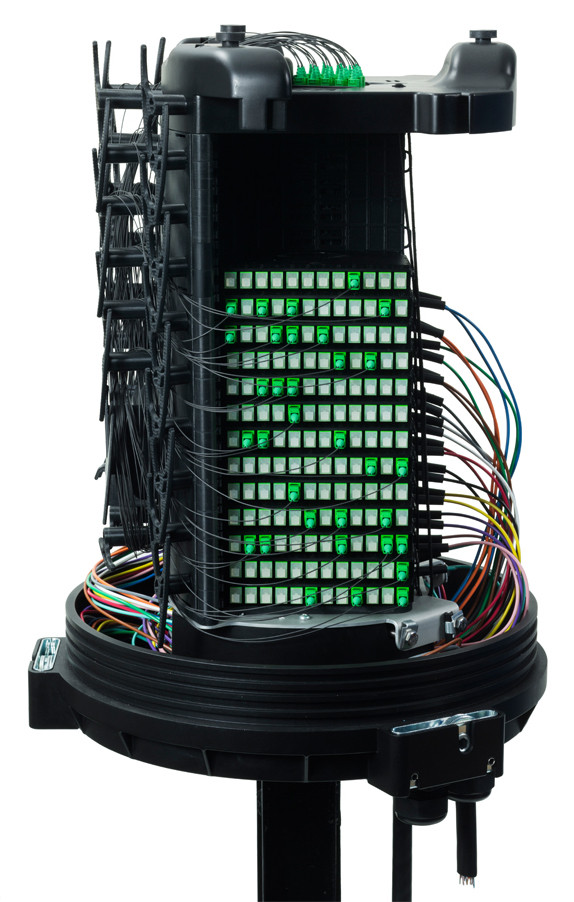 The FieldSmart Makwa, incorporates all of the features found in our above ground cabinets and adds the ability to deploy the FieldSmart FSC Distribution Hub in a below grade application. Roughly 50% smaller than existing above grade cabinets, Makwa reduces real estate costs and improves density without compromising critical design elements of accessibility, bend radius protection, physical fiber protection and route path diversity.
Clearfield's FieldSmart Makwa consists of four basic elements: a top over (dome), a base plate, an internal backplane and the Clearview Black Cassettes. All components are pre-assembled and loaded into the Makwa – making it field ready for deployment.Scalable to meet customer requirements, Makwa can be configured to accept 12-48 feeder ports and 12-288 distribution ports in a PON application. It will accept up to 9 – 1 x 32 ruggedized splitters and parking blocks for PON networks. For cross connect scenarios, Makwa can accommodate 12-432 ports as required.
Patch and splice versions are shipped with the Clearview Black Cassette preloaded. Patch only configurations are shipped complete with preterminated lengths of OSP cables, terminated into the Clearview Black Cassettes, fully come installed into the Makwa, making it ready for deployment right out of the package. Mounting options include below-grade (in a vault or hand hole), above grade –either on a pole or on top of a vault with a 12" riser.
Technical Specifications
| Vault Size | Application Below Grade | Mounted on Vault Cover  | Large Swing-up Arm/Rack  |
| --- | --- | --- | --- |
| 30 x 48 x 36" D | Yes (V7B-AZP, BCP or EXP) | Yes (V7B-CZP) | No |
| 36 x 60 x 36" D | Yes (V8B-BZP-Z or EZP-F) | Possibly (V8B-CZP-F) | Yes (V8B-BZP-Z or EZP-F) |
Specifications
| Part Number | 288 PON Makwa | 432 Cross-Connect Makwa  |
| --- | --- | --- |
| Dimensions | 22 ⅜" H x 16" W x 16" D | 22 ⅜" H x 16" W x 16" D |
| Weight | 35 lbs | 35 lbs |
| Port Density | Up to 288 | Up to 432 |
| Feeder/Express Ports | Up to 48 | N/A |
| Cassette Types Supported | Clearview® Black | Clearview® Black |
| Connector Types | SC/UPC, SC/APC, LC/UPC, LC/APC, | SC/UPC, SC/APC, LC/UPC, LC/APC |
| Cable Types | Indoor/Outdoor, Outdoor (Riser/Non-Rated), Outdoor Armored (Riser/Non-Rated) | Indoor/Outdoor, Outdoor (Riser/Non-Rated), Outdoor Armored (Riser/Non-Rated) |
| Splice Capacity | 12 splices in each Clearview Black Cassette | 12 splices in each Clearview Black Cassette |
| Storage Capacity | Up to ten feet of jacketed fiber | Up to ten feet of jacketed fiber |
| Cables Entrances | 4 | 4 |
| Splitters Slots (1 x 32 Splitter) | 9 | N/A |
| Mounting Options | Above Grade: pole mount; Below Grade: in vault mount | Above Grade: pole mount; Below Grade: in vault mount |
| Material | Property Blended UV Resistant Plastic | Property Blended UV Resistant Plastic |
Features & Benefits
Integrity
Terminations are designed and tested to Telcordia GR-326
Clearfield® FiberDeep® Guarantee: 0.2 dB insertion loss or less, exceeding industry standards
Compliant to Telcordia GR-20, GR-409,GR-487, GR-771, GR-1209 and GR-1221
NEMA 6 compliant
Constructed out of UV resistant plastic
Stainless steel fasteners and hardware
Protection
Provides protection from water intrusion if fully submerged
Single molded cover with double o-ring sealing technology for additional protection
Watertight cable entrance fittings
Each 12-fiber Clearview Black houses a 12-fiber subunit of patch and splice or patch only, protecting fiber from both environmental and human factors
Access
Pole mount or on vault mount
Vault mount option allows unit to be hidden from site and accessed only when service needs to be performed
Removable/resealable dome allows service technicians to access fiber without damaging fiber or disrupting existing service
Cable management integrated into the Makwa unit – including slack storage and parking blocks for splitters
Investment
All fiber is deployed in increments of 12, providing the users the ability to scale from 12 ports to full capacity, aligning capital investment with network layout and subscriber revenue
User defined feeder to distribution ratios for PON applications (288 PON version) or cross-connect options (432 Cross-Connect Cabinet)
MFS patch and splice configurations provide maximum flexibility for customer designed networks