Clearfield ODC-200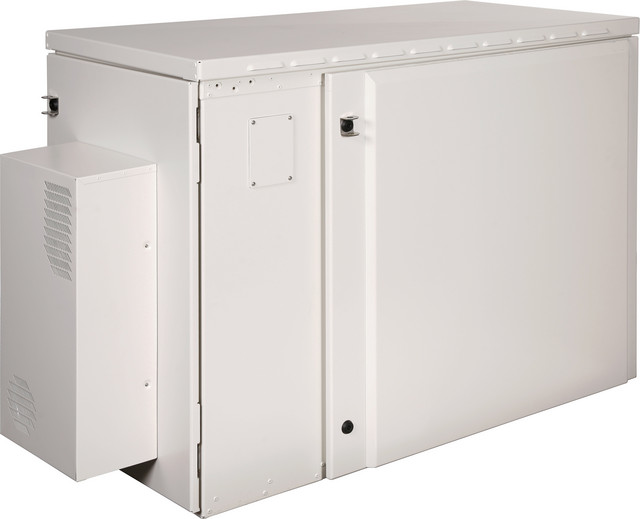 The Clearfield ODC-200 broadband enclosure provides the ultimate modularity and flexibility in a low profile cabinet design, while preserving maximum capacity for cooling and internal space for equipment and copper or fiber distribution. The ODC-200 accommodates multiple 1RU networking systems, including the Calix E7-2 and B6-001 Ethernet access products, and provides all the powering, line protection, and fiber or copper cable management to serve copper and fiber access subscribers. The ODC-200 represents a strategic breakthrough for the outside plant. Combining unprecedented scalability and flexibility with a form factor that meets the strictest zoning regulations, the ODC-200 is a game changer for Communications Service Providers shortening their copper loops today, and positioning themselves for an effortless migration to fiber in the future.
Technical Specifications
Specification
Description
Equipment Supported
Up to eight 1RU shelves; 8RU in a 19 inch rack
Wired Capacity
Copper: Up to 384 VDSL2 Combo lines, or 384 VDSL2 Overlay(*) lines. (*) Sixteen 48-line pro-panels in ODC-200, battery box in EXM.
Fiber: Up to 384 subscriber fiber terminations with internal battery box in enclosure, up to 576 subscriber fiber terminations without internal battery box in enclosure(*). Up to 18 integrated PON splitters. (*) Alternate battery box location and additional fiber capacity in EXM.
Dimensions
Base enclosure: Height 36 inches, Width 24 inches, Depth 48 inches (battery box internal to cabinet)
Expansion Module (EXM): Height 36 inches, Width 24 inches, Depth 29 inches (battery box internal to EXM option)
Riser options for cabinet and EXM: 6 inch or 12 inch height (when EXM is deployed, riser option must match that of ODC-200)
Weight
Base enclosure: 290 lbs. Includes equipment shelves, pro-panels and frame, and internal battery box.
Internal battery box: 25 lbs
Expansion Module: 50 lbs (empty)
Battery string (four 100Ah batteries): 315 lbs
Color  
Warm gray
Environment
Ambient temperature: –40°C to +51.7°C, per GR-487
Cooling
1050 Watt cooling capacity with door mount heat exchanger, as per GR-487 Generic Requirements
Power Options
AC Power feed: 240 VAC single phase, 50/60HZ,30 Amp service with UL listed service disconnect
High power AC surge protection (Joslyn)
Remote Power feed: Twenty ±190 VDC circuits/channels
AC/DC Rectifiers
Two 40 Amp rectifier modules (nominal), 1+1 redundant, autosenses and adjusts for low and high AC input
High input (185–264 VAC): 1640W or 30 Amps per rectifier at -53 VDC (derated for high Temp. at 70C)
Battery Back-up
Single 100Ah battery string in battery box internal to cabinet
Single or additional 100Ah battery string in Expansion Module (EXM)
Generator Connector Options
30 Amp NEMA twist lock
DC-DC Remote/Line Power
GE Energy (Lineage Power) CPS2500D: ±190VDC Downstream Power Converter
10 converter modules maximum; 2 channels per converter module
25 Amp (1300 Watt) max. total capacity
Hold-up Power Capacitor
One or two 665W Remote Power Buffer Capacitor
Mounting Options
Pre-Cast or Pour-in-Place Pad Template, Wall/H-Frame Mount, Vault/Riser
Copper Portection Panels
Standard 5-pin protection panels
Up to eight modular 48-pair increments (384 pairs total for Combo)
Up to sixteen modular 48-line pro-panels in ODC-200, battery box in EXM (384-DSL plus 384-POTS ports for Overlay)
Copper Splicings
Copper plant OSP connectors:
MS2 or 710
Cross-connect in EXM; 1,200-pair at 2:1 concentration (Combo: 384 equipment lines, 768 subscriber lines), in 600-pair modular increments
Fiber Management Options
12-/24-Position Clearfield Fiber Splice and distribution on 19/23 inch mount
Support for in-cabinet GPON and Active-E fiber management: Up to 384-position fiber distribution in 12-, 24-, 48-, or 96-port increments assemblies; SC/APC connector, loose tube or ribbon
Expansion Module: 23" rack based add-on for supplemental fiber, battery, cross-connect capacity
Fiber spool and routing facilities
Up to eighteen integrated 1by2, 1by16, 1by32 GPON Splitters (optional)
Safety 
UL-60950, Standard for Safety, Issue1, April 1, 2003
CAN/CSA-C22.2 No. 60950
EMC
FCC Part 15 Class A
ICES-003 Class A
Compliance
Telcordia GR-487, Generic Requirements for Electronic Equipment Cabinets
Features & Benefits
MODULARITY:
The ODC-200 enclosure can scale from a minimum equipment configuration of 48 copper or fiber subscriber lines to its maximum capacity of 384 combo copper loops or 384 fiber drops. A simple but spacious interior enables field technicians to install common options such as equipment shelves, power and ground cabling, line protection panels, fiber distribution, battery options, and cross-connect modules. A field installable Expansion Module (EXM) provides the ability to grow the enclosure to support more subscriber fiber distribution endpoints, add a secondary or alternative location for an integrated battery box, add rack space to migrate copper loops to fiber drops, integrate a copper cross-connect, etc.
FLEXIBILITY:
The ODC-200 accommodates a variety of standard options expected in remote enclosures, such as an internal battery enclosure and/or integrated battery box in an EXM, battery warmers, integrated cross-connect (in EXM), and field changeable distribution frames for copper or fiber based access, risers and vaults, generator connector, etc.
POWER OPTIONS:
The ODC-200 supports local AC power or remote/line power configurations. An AC powered ODC-200 includes a redundant rectifier with a UL approved load center or with a simpler AC input junction box. The enclosure also provides multiple battery backup options, in-cabinet and/or EXM. The remote powered ODC-200 includes a ±190Vdc downstream power converter (max. 20 circuits) and one or two hold-up capacitors.
LOW PROFILE:
The ODC-200 has been designed to comply with a 36 inch height requirement, to allow a minimum intrusive effect in urban, suburban and residential areas. Different riser and vault options are available to allow ease of access in unrestricted height deployments.
COPPER TO FIBER ACCESS MIGRATION:
The ODC-200 provides an ideal platform for migrating copper access services to fiber access infrastructure and electronics. The mounting frames in the enclosure support an equal concentration of copper pro-panels to fiber distribution frames. Many chassis based architectures provide a common infrastructure for copper (VDSL2) and fiber access (GPON or AE) service line cards. A field installable Expansion Module (EXM) provides additional space to add fiber distribution for a planned and orderly subscriber cutover. When migrating from copper based access to FTTP, the Service Provider can re-utilize the cabinet as an active or passive remote. Active equipment, and power elements in the cabinet like the rectifier shelf and AC load center, battery box and batteries, or heat exchanger door, are easily removed allowing ample space in the enclosure for fiber splicing, termination and distribution, and multiple high concentration splitters, turning the previously active remote into a fiber splice and splitting enclosure.
EQUIPMENT ACCESS:
The ODC-200 has front and side doors and a copper distribution swing frame to provide ample access to the equipment and power system within the cabinet. A heat exchanger is integrated onto the equipment access door as a standard feature.