FieldSmart Fiber Distribution Hub (FDH) Hub Collapse Cabinet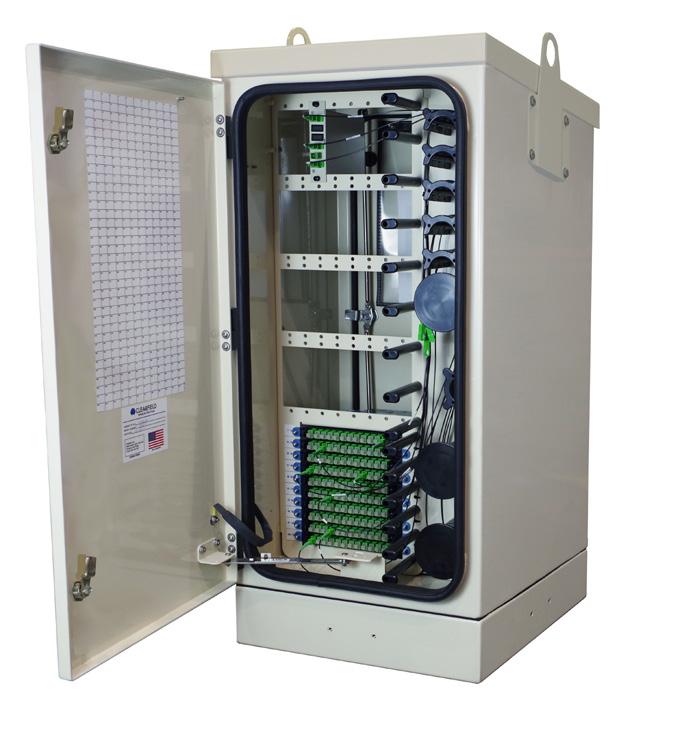 The FieldSmart Hub Collapse Cabinet (HCC) provides a centralized location within a service provider's network that houses both fiber terminations and optical components. This eliminates the need for a physical "hub" location, thereby saving land, maintenance and permitting expenses. Service providers increase revenue by collapsing multiple locations into one centralized service point.
Product Details
The FieldSmart Hub Collapse Cabinet (HCC) is designed for the cable operator looking to separate their passive infrastructure from the electronics without the need for a traditional, and expensive, standard hub architecture. Hub collapse environments allow passive architecture to be placed in the most craft-friendly place for circuit and wavelength allocation and associated MAC (moves, adds, and changes) work - on the ground. Providing up to 120-fiber terminations using the Clearview® Cassette and up to 32 LGX compatible CWDM/DWDM modules, the FieldSmart Hub Collapse Cabinet (HCC) separates critical active components typically protected in the node, such as Cisco's O-Hub platform or Aurora V-Hub, and allows existing optical components to be reused throughout the network.
Clearfield's Hub Collapse Cabinet (HCC) provides a centralized location that will accommodate both optical components and fiber terminations, making it an ideal solution for service providers looking to maximize existing fibers within their network. With a small footprint, real estate costs can be minimized with a variety of mounting options (pole, pad or vault mount).
The FieldSmart FDH HCC Cabinet family incorporates a new pyramid shaped roof/solar shield and a reusable/replaceable venting feature, providing additional protection for deployed fiber. Mounting options include pad, pole or vault mounted with either a 4" or 12" riser. An optional exterior ground box is also available.
Features & Benefits
Integrity
Terminations designed, tested and certified to Telecordia GR-326
Clearfield® FiberDeep® Guarantee: 0.2 dB insertion loss or less, exceeding industry standards
Designed to comply to Telcordia GR-20, GR-487 and GR-3125
Designed to meet NEMA 4 specifications
Constructed with 0.90 aluminum
Powder coated for additional protection
300 series stainless steel fasteners used on all cabinets
Protection
12-fiber Clearview Cassette protects fiber from environmental and human factors
Rugged cable clamps protect the OSP cable breakouts from twisting and pistoning
Patch only buffer tubes are fully protected with ruggedized bend-limiting tubing
Snake skin sleeving provides additional buffer tube slack storage protection and manageability for patch and splice (Clearfield's incassette splicing solution) configurations
Pyramid roof and venting provide additional protection in all environments
Access
Clearview Cassette allows for quick visual troubleshooting without opening cassette
Front access to pre-terminated assemblies with Clearview removable adapter plate
Easy two captive fasteners for quick removal of individual cassettes for trouble shooting, splicing or replacing
Front and rear access doors
Optional ground/locate box available
Investment
Fiber is deployed in increments of 12, providing the users the ability to scale from 12 ports to full capacity, aligning capital investment with network layout or subscriber revenue
Express ports allow for extensions or parallel networks through the cabinet
Technical Specifications
| Specification | Detail |
| --- | --- |
| Dimensions (without riser) | 35.11" H x 18.65" W x 16.98" D (891.79 mm x 469.90 mm x 431.29 mm) |
| Weight | 54 lbs (24.49 kg) |
| Port Density | 120 can add five additional cassettes - 60 ports per LGX slot using adapter plates |
| LGX Compatible Bulkhead Slots | 32 |
| Cassette Types Supported | Clearview Blue |
| Connector Types | SC/UPC, SC/APC, LC/UPC, LC/APC |
| Cable Types | Indoor/Outdoor, Outdoor (Riser/Non-Rated), Outdoor Armored (Riser/Non-Rated) |
| Splice Capacity | 12 splices in each Clearview Cassette |
| Cables Entrances | 6 |
| Recommended Jumper Length | Two meters |
| Mounting Options (Hoist Kits are included with each cabinet) | Vault mount; pole mount; pad mount |
| Standard Riser Base | 4"; 6 lbs (101.60 mm; 2.72 kg) |
| Optional Riser Base | 12"; 12 lbs (304.80 mm; 5.44 kg) |
| Material | 0.90 aluminum with almond powder coating |
<![CDATA[<!-- NOTE: Removing product JSON, as products need to have offers, reviews, or aggregate ratings to be valid as of April 2020. <ui:remove><!-- <cf:decorate template="/SITE-INF/templates/parts/metaDataJSON/JSON-product.xhtml" comments="" /> --></ui:remove> <cf:decorate template="/SITE-INF/templates/parts/metaDataJSON/JSON-product.xhtml" /> -->]]>