Clearfield ODC-2000 Cabinet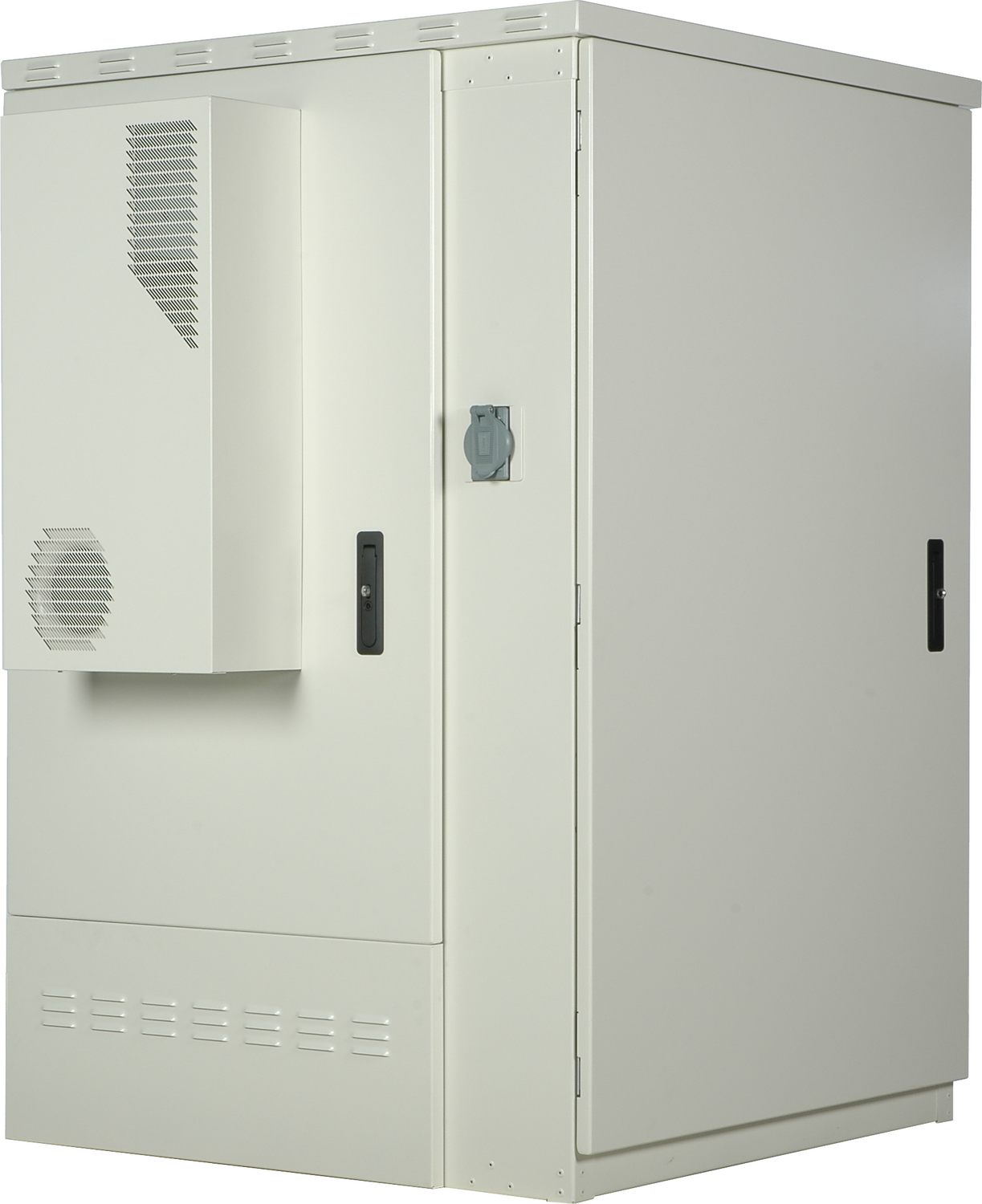 Product Details
The Clearfield ODC-2000 broadband enclosure has been designed with the philosophy of modularity and flexibility, while maintaining a maximum heat dissipation capability. Designed to accommodate broadband shelves such as the Calix C7, E-Series, and F5, the ODC-2000 provides all the powering, protection, and cable management to serve up to 960 copper or up to 2560 PON customers. The ODC-2000 supports 100% density of narrowband and broadband services.
Features & Benefits
MODULARITY:
Clearfield ODC-2000 enclosures are designed to easily scale from a minimal configuration to the maximum capacity of the enclosure. Design consideration has been taken to allow the customer to field install and scale common options such as line protection, cooling, and cross-connect modules. Clearfield enclosures can be configured for as low as 480 lines with the option of scaling up to the maximum capacity of 960 lines.
FLEXIBILITY:
The ODC-2000 has been designed to accommodate third party equipment in both the front and rear equipment compartments as well as the splice chamber. Twenty-three-inch equipment racks in the front, rear, and splice chambers allow for the installation of common devices such as fiber management, passive optical splitters, and CWDM EDFAs.
REAR ACCESS:
When configured for broadband shelves, the ODC-2000 front and rear 23-inch racks swing out to provide rear access to equipment mounted in the racks. For all configurations, the protector panels are mounted on swing-down frames for troubleshooting and cabling purposes.
FTTP READY:
The ODC-2000 can terminate large amounts of fiber, comfortably serving as the intermediary to deploy fiber-to-the-home or fiber-to-the-business services. With the usage of standard 23-inch equipment racks, the ODC-2000 can support the usage of high density third party Fiber Distribution Panels, allowing a smooth transition of every subscriber from copper- to fiber-based services when desired. The ODC-2000 manages up to two Calix C7 shelves full of fiber-based interfaces (including connectors, splice trays, and distribution panels).
SERVICE VARIETY:
The ODC-2000 supports traditional copper-based services (POTS, DS0 specials, xDSL), yet gives service providers the ability to support large quantities of high revenue-generating services, such as DS1 (hi-cap quality with 1:N protection), DS3, OC-3, OC-12, Gigabit Ethernet, and fiber-to-the-home, all from the same platform with no need to deploy overlay networks for specific services.
POWER MANAGEMENT:
Intelligent power management features guarantee continued delivery of narrowband and selective user-provisioned broadband services during extended periods of battery-powered operation.
ADVANCED COOLING:
The ODC-2000 enclosure has been designed from the ground up to address heat dissipation issues associated with the deployment of high-speed services from remote terminal locations. Cooling is achieved via door-mounted air-to-air heat exchangers that are either factory- or field-installable. The cooling options support 480 or 960 POTS+ADSL services.
Technical Specifications
Specification
Description
Wired Capacity
Copper: Up to 960 lines
PON: Up to 2560 subscribers
Up to 768 ADSL2 and POTS ports*
Up to 384 VDSL2 and POTS ports*
*ODC-2000 model only
Dimensions
48.5 inches (width) x 48.5 inches (depth) x 73.5 inches (height)
Weight
1271 lbs. (not including batteries)
Color  
Warm gray
Environment
Ambient temperature (per GR-487):–40° C to +46° C (–40° F to +115° F)
Cooling
Door-mount heat exchanger options (1850 Watts – up to two 3700 Watts total)
Mounting Options
Pad
Power
Power feed: 240 VAC single phase, 60-Amp service with UL listed service disconnect
Redundant AC feeds to rectifier
Redundant DC feeds to C7 shelf
Low voltage DC disconnect (–42V)
High power AC surge protection (Joslyn)
Remote power feed:±190 VDC (E-Series only)
DC Rectifiers
Valere Compact Power System
4 rectifier modules maximum
120 Amp max. total capacity
Rectifier modules: 20 or 30 Amp
Cable Management
Copper plant OSP connectors: MS2 or 710
Alarms
Breaker/fuse fail alarm (rectifier distribution)
Door security alarm
Rectifier Minor alarm
Rectifier Major alarm
Heat exchanger fail/overtemp alarm
LVD Active alarm
Batteries on discharge alarm
AC Fail alarm
Battery Back-up
Preferred battery: Northstar 170 AH
Up to three strings per cabinet
Copper Protection Panels

Standard 5-pin protection blocks – modular in 50-pair increments
Up to six (6) 50-pair protection blocks per Protector Panel Mounting Frame (4 frames maximum)

Safety
UL 60950
CAN/CSA-C22.2 No. 60950
EMC
FCC Part 15 Class A
ICES-003 Class A
Calix Equipment Supported
E-series
C7 chassis
F5 chassis
Clearfield Fiber Management Options
23-inch fiber splice trays
Fusion—12 positions per tray*
Heat Shrink—12 positions per tray*
Mechanical—12 positions per tray*
*up to 10 trays per splice tray holder
Clearfield Fiber Distribution Panel Options
12 & 24 position panel: LC, SC, ST, and FC connectors
Clearfield Fiber Distribution Cassettes
SC connectors—12 positions per cassette
LC connectors—12 positions per cassette
Generator Connector Options
30 Amp NEMA twist lock w/breaker and interlock
60 Amp pin & sleeve w/breaker and interlock (Hubbell)
Compliance
Telcordia, GR-63-CORE, NEBS Requirements, Issue 1, October 1995
Telcordia, GR-487, Generic Requirements for Electronic Equipment Cabinets, Issue 2, March 2000