Quarterly Earnings: FieldReport
Welcome to the Clearfield FieldReport page. Each quarter, we will prepare an audio presentation with corresponding slides for your review and information. We welcome your questions and encourage you to send these questions to our attention at IR@clfd.net. Our comments to relevant questions will be posted below for the benefit of all current and prospective shareholders.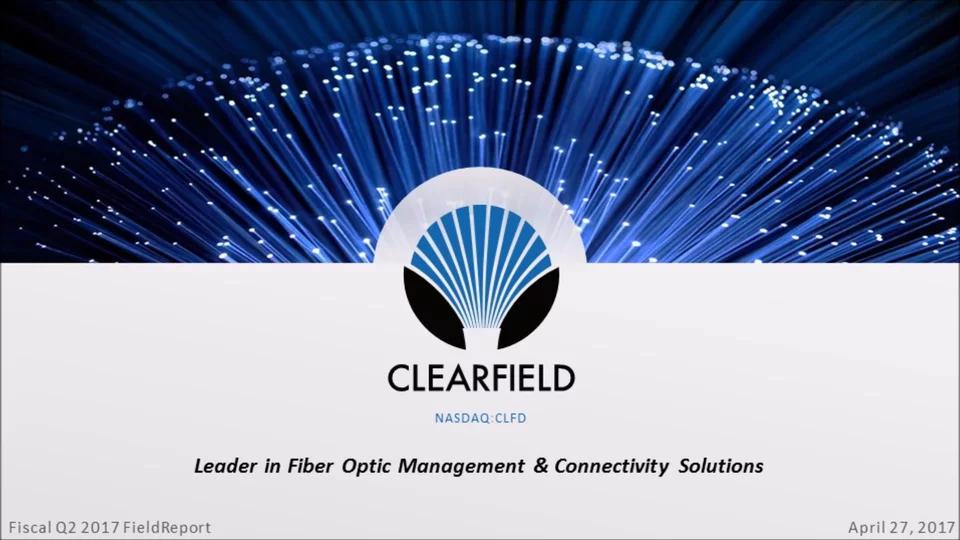 Questions Received from FieldReport Viewers
The announcements by Verizon and AT&T illustrate the size and scope of the opportunity with those broadband service providers. Clearfield is targeting revenue growth within the Tier 1 telco wireline networks and is pleased with our progress in positioning Clearfield as a trusted vendor within the Tier 1 markets. We cannot, however, comment on the timing, likelihood or magnitude of Clearfield's success in that initiative beyond the revenue outlook we have already provided for the Company as a whole.

Certification under the Telcordia umbrella pertains to testing to a GR or General Requirements code. There are numerous GR standards with several most relevant to Clearfield's business opportunities within the Tier 1 telco (Wireline), national wireless carrier as well cable (MSO) markets. These are lengthy and expensive tests but we are very pleased with our progress to date. We share our progress with our customers and prospective customers as we proceed as part of our sales and marketing process. While certification is an important milestone and a gate that reduces the barrier to entry within these markets, it does not guarantee success. It will however, position Clearfield among the industry's select few who are able to design and manufacture to these exacting standards.